Kindle can read MOBI files which were designed specifically for Kindle tablets. These instructions assume you have purchased the MOBI download file already. If you purchased the wrong file, please contact us directly.
First we download your purchased file from the Selene River Press website.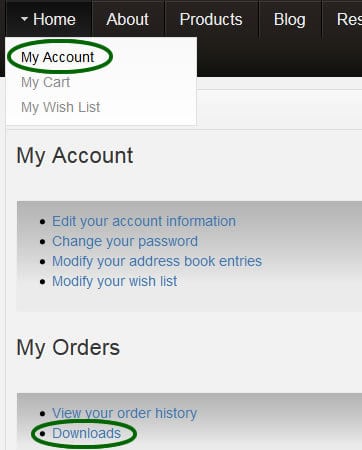 From our website top navigation, choose Home > My Account.
You may have to log in if you have not done so.
This page contains your account information including order history and downloads.
Click the Downloads link to get to your full list of purchased downloads in our system.
The downloads page will show a list of your downloads as well as a count of your remaining downloads for each particular purchase. If you see a count of 0 and you believe this to be in error, please contact us directly for assistance.
NOTE: When you purchase Selene River Press MOBI downloads, the files you download will come bundled as ZIP files. These files must be "unzipped" or "extracted" to your hard drive first. After extracting the files, they may be opened by your eReader software and syncronized with your reading device. If you are not clear how to unzip a ZIP archive, click here for instructions for Windows and here for instructions for Mac.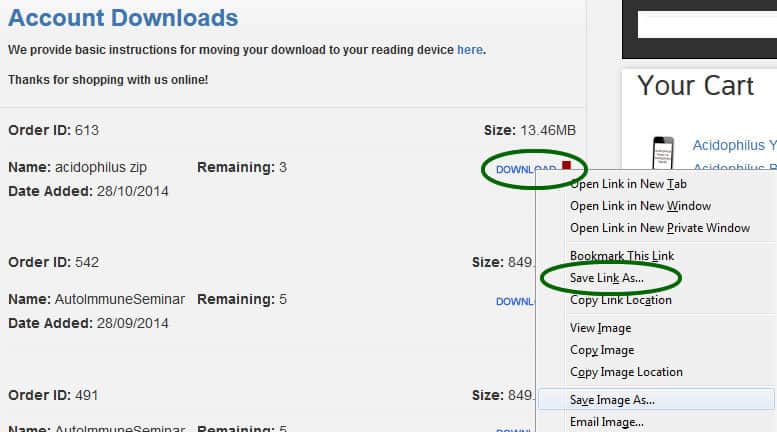 Here we recommend right-clicking (for Windows) or Command + clicking (Mac) to get a contextual menu for your download link. Here you can choose Save Link As or Save Target As, and select where you wish the file to be saved on your local computer.
NOTE: You cannot directly purchase, download, and render your eBook on your Kindle without adding it to your device through a Mac or PC interface There are several methods for accomplishing this and you can even read the MOBI eBook on your PC or Mac. Choose your preferred method:
Kindle – transfer your eBook via email:
You can transfer a personal document from your computer to your Kindle device.
Visit https://www.amazon.com/gp/digital/fiona/manage?ie=UTF8&ref_=sv_kstore_8#pdocSettings– log in with your Amazon account and do two things:

Check that your email address is listed under the "Approved Personal Document E-mail List" (if not, add it by clicking "Add a new approved e-mail address" and follow the on-screen instructions)

Copy your device's "Send-to-Kindle E-Mail Settings" email address, paste it into a new email in the "To" field.
Send the document as an attachment to your Send to Kindle e-mail address. Make sure you do not send the ZIP file you purchased. The MOBI file within the ZIP file must be extracted before you send it to your email address.
It may take a few minutes to finish the upload, but the book should appear in your device shortly after you send the email.
Kindle – transfer your eBook via USB:
Connect your Kindle device to your computer using the USB cable.
Note: When connected to your computer, your Kindle device will go into USB drive mode, which disconnects its wireless connection.
After you've connected your device on your computer, your Kindle will appear in the same location USB drives usually appear.
Mac: Your Kindle will appear on your desktop.
Windows: Click Start, and then click Computer.
Click on Kindle to open the Kindle drive.
Drag your Selene River Press ebook from where you downloaded it and extracted it from the ZIP file (it may be in the Downloads folder) and drop it into the Documents folder in the Kindle drive.NOTE: Do not drop the ZIP file into this Documents folder. Kindle will not know how to use this file. Only the extracted MOBI file should be added.
Safely eject your Kindle device, and then unplug your Kindle device from your computer.
Your eBook will appear on the home screen of your Kindle. For Kindle Fire devices, tap Docs from the home screen to view your eBook.
Kindle – view your eBook on your computer:
You can also view Kindle files on your computer with the Kindle App (PC: http://www.amazon.com/gp/feature.html/ref=kcp_pc_mkt_lnd?docId=1000426311 // Mac: https://itunes.apple.com/us/app/kindle/id405399194?mt=12).
NOTE: You must extract the MOBI file from the ZIP file you downloaded in order to read the file with the Kindle App.