The Lee Foundation for Nutritional Research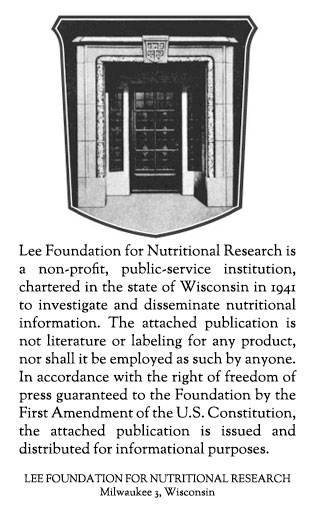 In 1941, Dr. Royal Lee created the Lee Foundation for Nutritional Research, a nonprofit distributorship of nutrition research and commentary that would become the largest clearinghouse of such information in the world. (See below for the Foundation's original
mission statement.)
Today, the Selene River Press Historical Archives includes over 200 books and articles from the original Lee Foundation collection, each identified by an image of the Foundation's famous entrance (shown at right, along with the disclaimer that accompanied each publication).
Like all of the outstanding content in the SRP Historical Archives, you will find an informative summary placing each work in historical context as well as a free downloadable pdf of the original document.
Click here to browse the complete list of Lee Foundation works available in the Archives. Happy hunting.
Original mission statement from the Foundation:
The Lee Foundation for Nutritional Research is chartered by the State of Wisconsin to investigate and disseminate facts relating to nutrition. Towards this end, the Foundation:
Issues reports by members and contributors on nutrition and the allied sciences.
Carries on research for methods of retaining vital food factors in commercial foodstuffs. The Foundation also licenses processes for separating and concentrating these factors from foodstuffs to food and pharmaceutical manufacturers although it believes this to be but a temporary solution to the problem. This makes the Foundation a self-supporting but nonprofit institution.
Proposes to further disseminate reliable information previously given limited circulation.
Lee Foundation for Nutritional Research
Brookfield, Wisconsin
Executive offices: Milwaukee, Wisconsin