We recently celebrated my third child's first birthday and those who know me know I go all out on my kids' birthdays. Well, the first is extra special, and the most important part to me is the cake. I'm an amateur baker and love making specialty cakes! My oldest had a penguin cake, my son had a Batman and Robin cake, and for our little Henley we had a One in a Melon theme with a watermelon style cake.
Cakes are great, but the typical cake is stuffed with bleached white flour and sugar. I've never loved giving my one year old a bunch of sugar and "napkin bread" flour (my mom always called white bread "napkin bread" growing up, she never fed it to us), but it was their birthday and what else was I to do?
Enter Selene River Press!
Since I began with the company over four years ago, I've had my eyes opened to the treacherous harms of the Standard American Diet. I can't say I didn't know this already, my mom growing up worked hard to give us healthy foods, but I can say I didn't understand how truly important it was. Or it may be better to say, how truly terrible sugar is.
So, knowing what I know now, what was a baker to do for her last baby girl's first birthday smash cake?
Let's digress for just a moment. Smash cakes are a somewhat newer trend, so it got me wondering, where did this idea come from? Why do we make individual cakes for our babies to eat and play in? There are two theories behind this. One, we adapted the smash cake from the traditional Mexican celebration called Mordida, where the birthday girl or boy take a bite out of the cake after singing Happy Birthday, and then often had the cake smashed in their face. The second theory is that we took the traditional bride and groom taking the bite of their wedding cake and adapted it to the smash cake. Interesting, right?
Ok, back to our cake story. I really pondered whether to make a traditional cake or not. I'm not going to lie, my kids do eat some sugar, but I still hate the idea of such a young baby who barely eats food and stuffing her face with all that sugary cake. Happy birthday, my love, here is a huge tummy ache! No thanks. Even though I knew she'd barely eat any at all, even a small amount is a lot for a tiny body.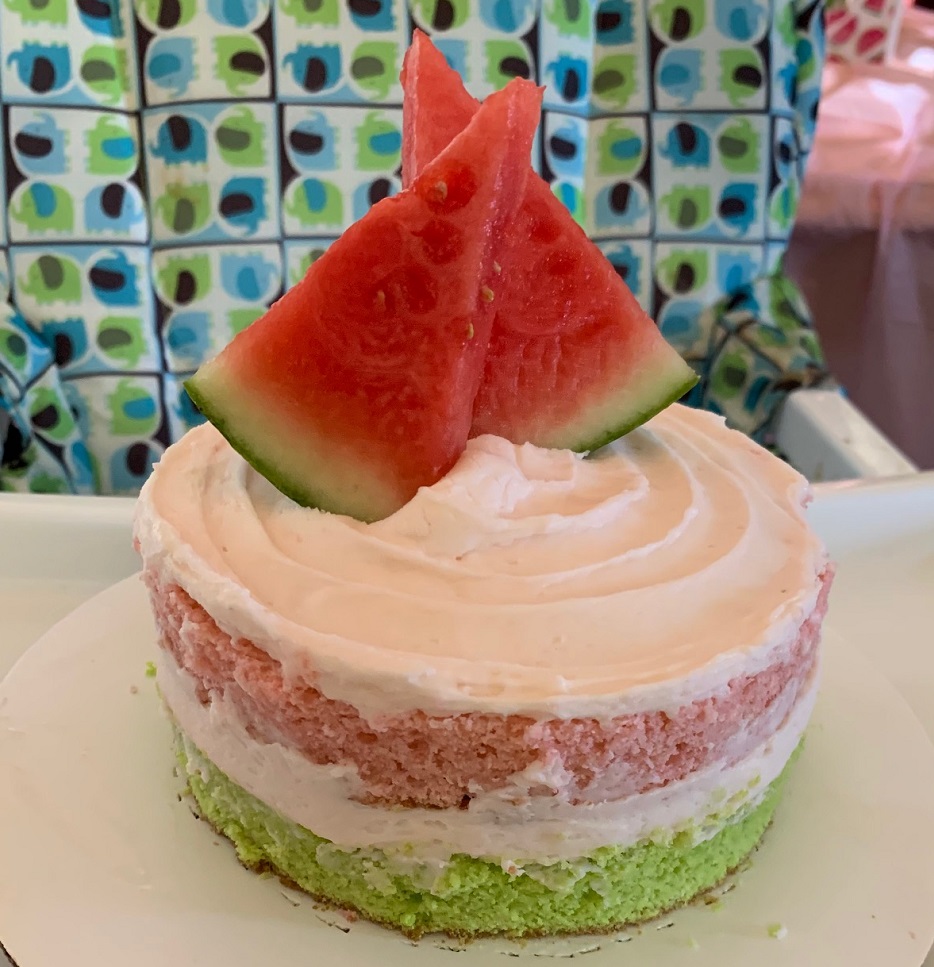 Enter my search for a healthy smash cake! I have to say, it was far easier than I thought it would be. A quick Pinterest search unraveled a plethora of options. I loved this version that uses blended fresh fruits as the sweetener and whole wheat flour.
Another option, and the route I took due to time constraints, is to adapt your favorite vanilla cake recipe. Find a sugar alternative, grab your organic eggs and milk (bonus if you have raw milk) and voila, easy peasy! My favorite sugar alternative is a monkfruit blend. I've done tons of baking with it, and it always turns out great. Also, for some amazing healthy dessert and sugar alternatives, check out the What's Cooking at SRP? blog by chef Briana Goodall. Anything you try of hers is sure to be a hit!
Frosting can seem trickier, but it's actually quite easy! Most frosting consists of butter, powdered sugar, a little vanilla, and milk. Powdered sugar does have alternatives (you can get a powdered monkfruit) but to keep it simple, go with some home-made whipped cream! Not only will your little one love the texture and taste, but they are sure to make a big mess and get you that perfect smash cake picture!
In conclusion, my words of advice to anyone out there who may feel hesitant or unsure how to transition to a holistic lifestyle is this: keep it simple! You don't have to take away cakes and sweets. Birthday's can still be filled with guilt-free cakey fun!
Images from Danielle LeBaron.