GAPS Cooking Weekend at the Nutrition Therapy Institute
June 6, 2020 @ 8:30 am

-

June 7, 2020 @ 5:00 pm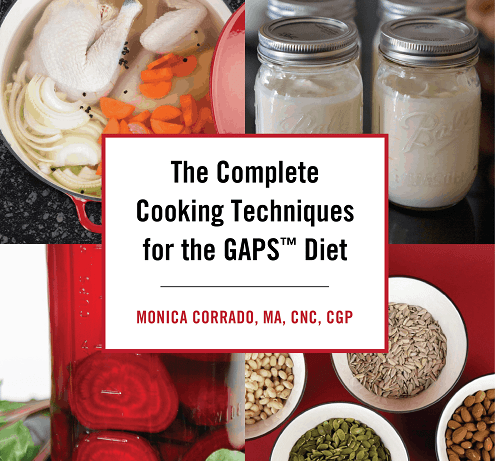 Spend a weekend with the "GAPS Chef"!
Monica Corrado, MA, CNC, CGP is a teaching chef, Certified Nutritional Consultant and Certified GAPS Practitioner…and on the faculty of Dr. Natasha Campbell-McBride's teaching team. Monica has developed and teaches the cooking curriculum for the Certified GAPS Practitioner and Certified GAPS Coach programs!
Come and learn all the cooking techniques you need to help bring your child or yourself to balance through food!
Have your questions answered during an informative and fun-filled weekend!
There are only 12 spaces available, so register today!
All students will receive a copy of Monica's newest book, The Complete Cooking Techniques for the GAPS™ Diet, as part of their tuition ($55 retail).
All students will be required to attend a Zoom class on Friday, June 5, from 7pm-9pm, as part of the training.  
The GAPS™ (Gut and Psychology Syndrome) healing protocol heals the cause of so many symptoms–all connected to a "leaky gut". They may be brain function disorders such as Autism, Asperger's, AD/HD, dyslexia and dyspraxia, or digestive disorders from constipation, chronic diarrhea, food allergies and sensitivities, to Irritable Bowel Syndrome. The GAPS nutritional protocol can also heal auto-immune disorders…in fact, nearly every physical symptom in the body can be traced to a gut in need of healing.
This GAPS Cooking Weekend will take the mystery out of the diet. Learn what foods to eat, which to eliminate, and why! Learn the cooking techniques specific to the GAPS diet! Chef Monica will make it easy for you!
This is a special class given at the Nutrition Therapy Institute, with special rates for NTI students.
Early Bird Rate available for all through April 13. Regular Rate April 14-May 15, 2020.
Register here: https://bit.ly/2w1qwmy