JEAN LAWRENCE, CCN – WHAT'S BLOOD GOT TO DO WITH IT – SAN FRANCISCO (BERKELEY), CA
August 19 @ 8:30 am

-

5:30 pm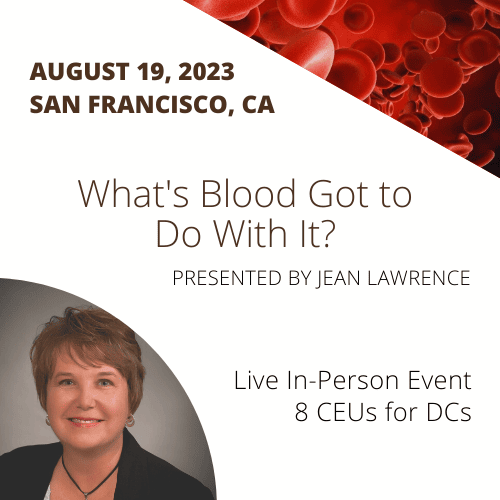 EVENT DETAILS:
Event Room: Mariposa
Registration begins at 8:00 am
Seminar time 8:30am – 5:30pm
Lunch will be provided at 12:30
Continuing Education Credits (CEUs):
8 hours for DCs in CA pending
Continuing education credit (CE) is administered by TCC (Texas Chiropractic College)
ABOUT THE SPEAKER:
Dr. Lawrence is a nationally recognized speaker for Standard Process and a Certified Clinical Nutritionist, Master Herbalist, Certified Functional Medicine Practitioner©, Doctor of Naturopathy, Doctor of Naturopathic Medicine, has a PhD in Natural Medicine, and is a Diplomate of the American Clinical Board of Nutrition.  She is the Director of Clinical Education for DirectDX.net and has several years' experience with whole food nutrition, herbal nutrition, functional blood work, hormone testing and hair analysis. She specializes in endocrine disorders and digestive issues. She co-manages patients with several practitioners and offers telehealth visits as well for her out of state patients.  Her functional medicine practice is in Toccoa, Georgia with her husband, Philip who is a chiropractor.  Her passion is teaching and training other practitioners, and she brings education, information, and entertainment together in a unique style.  She has been trained in the ReCODE protocol by Dr. Dale Bredesen that wrote "The End of Alzheimer's" and is listed on Dr. Bredesen's website, and also runs genetic reports on patients.  Dr. Lawrence is a member of the Executive Board of the American Clinical Board of Nutrition, and is a member of the Advisory Board of Functional Medicine University. She is on the Medical Advisory Board for NueLife.
ABOUT THIS SEMINAR:
"A Functional Medicine Approach to Commonly Overlooked Markers in Blood, Urine, Hair, Saliva and Observation Analysis"
Many practitioners these days are seeing more and more chronically ill patients in their clinics, and looking at labs from a functional perspective can make all the difference in someone's health picture. At this seminar you will learn: how to spot B12 and iron deficiencies; what the white blood cells are up to and when to order further testing; liver and kidney dysfunction and markers that are usually overlooked; the real reasons behind many degenerative issues and where to start; advanced testing through Cyrex; what the DUTCH test is and how to interpret it for your patients with hormone issues; real-life case studies printed out for note taking; and much more! Don't miss this chance to bring your questions with you to this important
LOCATION: DOUBLETREE BY HILTON BERKELEY MARINA
200 Marina Blvd, Berkeley, CA 94710