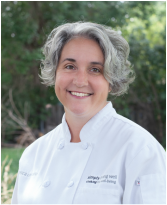 Want to learn more about healthy foods? Expert food guru Monica Corrado will be giving Food Talk presentations Monday evenings from 6:30 p.m. to 8:30 p.m. at the Thrive! Wellness Center in Fort Collins.
Monica is a traditional food chef, holistic Certified Nutritional Consultant, member of the Honorary Board of the Weston A. Price Foundation, professional member of the American Association of Nutritional Consultants, and author of the cookbook With Love from Grandmother's Kitchen. Food Talks are $15 in advance or $25 at the door.
Monica's Cooking Classes to Complement Food Talk Presentations
Monica builds on some of her Food Talk presentations with cooking classes at Whole Foods Cooking School in Fort Collins, Saturdays at 9:30 a.m. AND 2:00 p.m. Classes are $55 in advance/$65 at the door. Both classes (same day) for $95 in advance.
For more information and to register for the Food Talks or cooking classes, visit the SRP Events Calendar. Click through to the appropriate month for the Food Talk or cooking class you'd like to attend.
Food Talk Schedule 
Mondays, 6:30–8:30 p.m. (January 26–June 8)
Thrive! Wellness Center
383 W. Drake Road, Fort Collins
January 26. Put Your Heart in Your Mouth: Diet for a Healthy Heart
Do you or someone you know have coronary heart disease (CHD)? Does it run in the family? How about high blood pressure? Want to get off those meds? Learn about those foods that will grow and maintain a healthy heart and circulatory system—and a healthier YOU!
You can also join Monica on February 7 for the following cooking classes:
Heart Healthy Fats (9:30 a.m.–12:00 p.m.)
Heart on the Menu (2:00 p.m.–4:30 p.m.)
February 9. The Brain-Gut Connection: Why Healing a Leaky Gut Is So Important for Life
Do you have food allergies? Eczema? IBS? Dyslexia? Dyspraxia? Been on antibiotics? Steroids? Prescription meds? Learn what all this means for the connection between the brain and the gut and why it's critical to heal it and seal it sooner rather than later.
February 16. SPRING Into Wellness: Foods to Detox for Spring
Spring is just around the corner! Time to clean out and clear out the old, slow, and stagnant cares of winter and prepare for spring. Learn simple techniques and foods to detoxify your body and make way for the life, creativity, and movement of spring. We'll talk about the energetics of this season as well as cleanses, cleansing foods, raw foods, and other ways to help your liver get through this season masterfully.
You can also join Monica on March 7, for the following cooking classes:

Love Your Liver (9:30 a.m.–12:00 p.m.)
Liver Tonics (2:00 p.m.–4:30 p.m.)
March 30. Nourish Your Brain Foods!
Do you or your child experience brain functioning issues? Brain fog? Memory loss? Inability to focus? It may be as simple as adding a few foods to your diet and removing others. Come and learn which foods are brain-nourishing and which are not. The answers may surprise you!
April 13. In Honor of Earth Day: Why Eat Meat? What About Dairy? 
You've been told to cut out red meat and cut down on dairy foods. But not all red meat is created equal. Not all dairy is created equal, either! Learn about the benefits of raising cows on pasture, what it means for the planet and for your health, and the nutritional benefits of grass-fed meat and dairy.
To learn more, join Monica on April 18 for the following cooking classes: 
Super Grains (9:30 a.m.–12:00 p.m.)
Flatulence Is NOT Normal! Unlocking the Goodness in Beans (2:00 p.m.–4:30 p.m.)
April 27: In Honor of Moms: Nourishing Foods for Women of Every Age
Are you in your child-bearing years? Do you have a daughter? Have PMS? Are you approaching or in your menopausal years? Learn about the foods that will support and encourage a healthy female reproductive system and hormonal system from premenstrual years into menopause. Gain knowledge and relief and feel good throughout the month!
To learn more, join Monica on May 2 for the following cooking classes: 
Culturing Dairy: Yogurt, Kefir and Crème Fraîche (9:30 a.m.–12:00 p.m.)
Non-Dairy Calcium to the Rescue! (2:00 p.m.–4:30 p.m.)
May 18. Gluten-Free Optimally: Making the Transition to Gluten-Free Whole Foods
Going gluten-free? Avoid the gluten-free processed food trap! Just because something is labeled "GF" doesn't mean it's good for you! Learn how to read GF labels and steer clear of those ingredients that will wreak more harm on your gut. We'll also discuss how to transition to gluten-free whole foods and why it's important to do so.
June 8. To Heat or NOT to Heat: The Truth About Vegetable Oils
What's a vegetable oil, anyway?! Which ones are good for you? How do you know? EVOO? Canola? Soy? There's a whole lot of conflicting information about cooking oils out there. Learn which oils are good for you, which are not, and how to pick the best ones for your kitchen. We'll also cover which are safe to heat and which are best used for cold salads…just in time for summer!
To learn more, join Monica on June 6 or 13 (date TBA) for the following cooking classes:
Marinades for Grass-fed Meats (9:30 a.m.–12:00 p.m.)
Healthy, Homemade Salad Dressings (2:00 p.m.–4:30 p.m.)
Photo from iStock/Ridofranz