Have you ever adopted an animal from a shelter or rescue group? Ever found a stray on the street to bring to your forever home? Well I have.
When I was seven years old and out shopping with my mom, we ran into a pen of puppies that a local shelter was putting up for adoption. Being an animal lover and possible future veterinarian, I hurried over to see the cute little pups. As I approached the waist-high pen, a tiny, fluffy white puppy started barking and crying like crazy. The others continued to play and wrestle with each other, but  this specific puppy was determined to jump in my arms. I bent down to pet her even as she frantically jumped at me to hold her. Once in my arms, she licked my cheeks and held on like she'd never let me go. My mom looked down at us, a curly redheaded kid with tears filling her blue eyes and a single-minded cockapoo full of adoration. We were not about to be separated.
Needless to say, we took her home. There were a few obstacles. Namely, my dad wasn't happy that my mom made the decision without his consent. We also had two German shepherds already, and we needed to introduce them to little Chrissie. And I had to quickly learn about feeding your dog, taking her out to go potty every hour, and picking up her dog poop.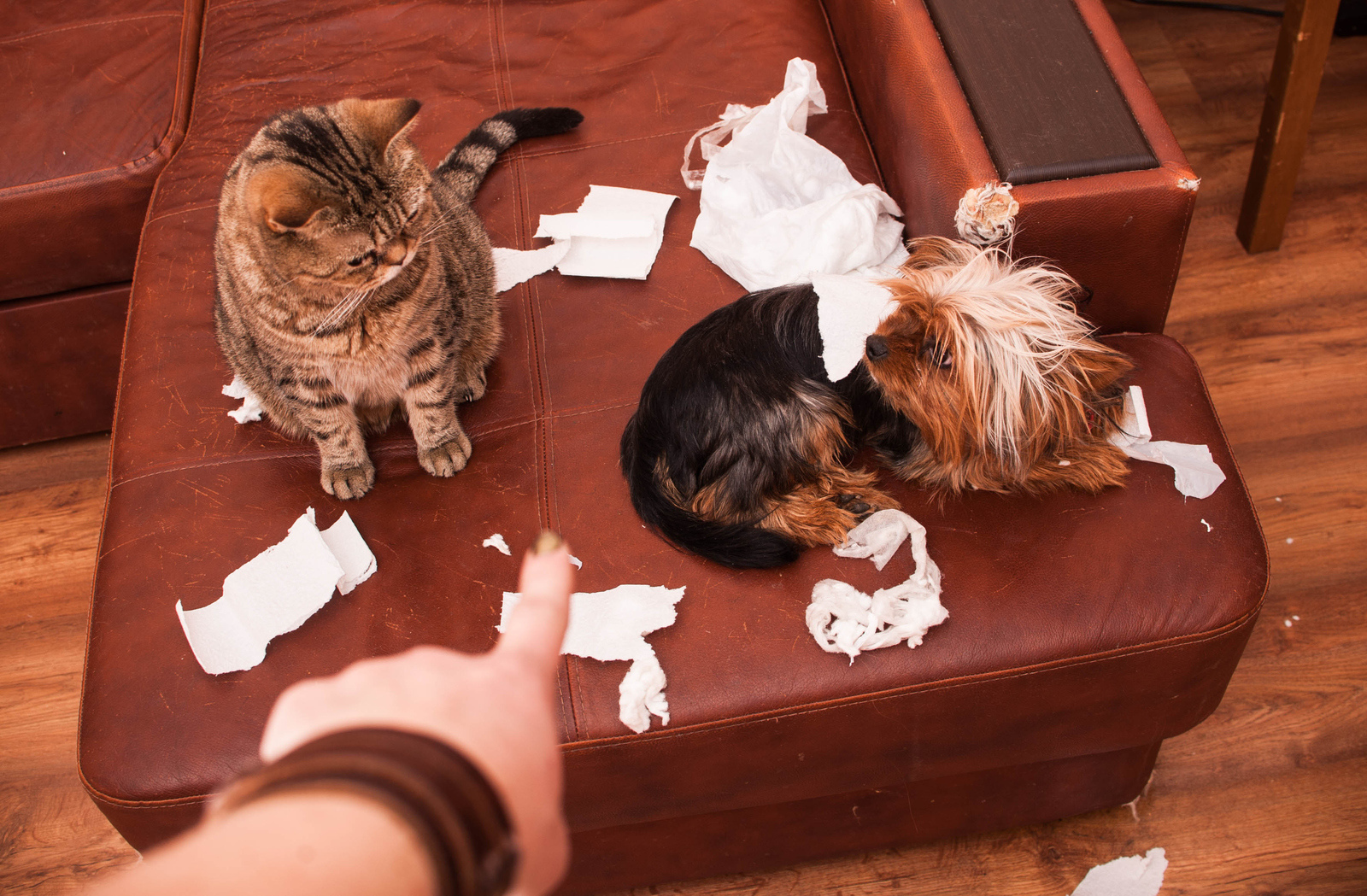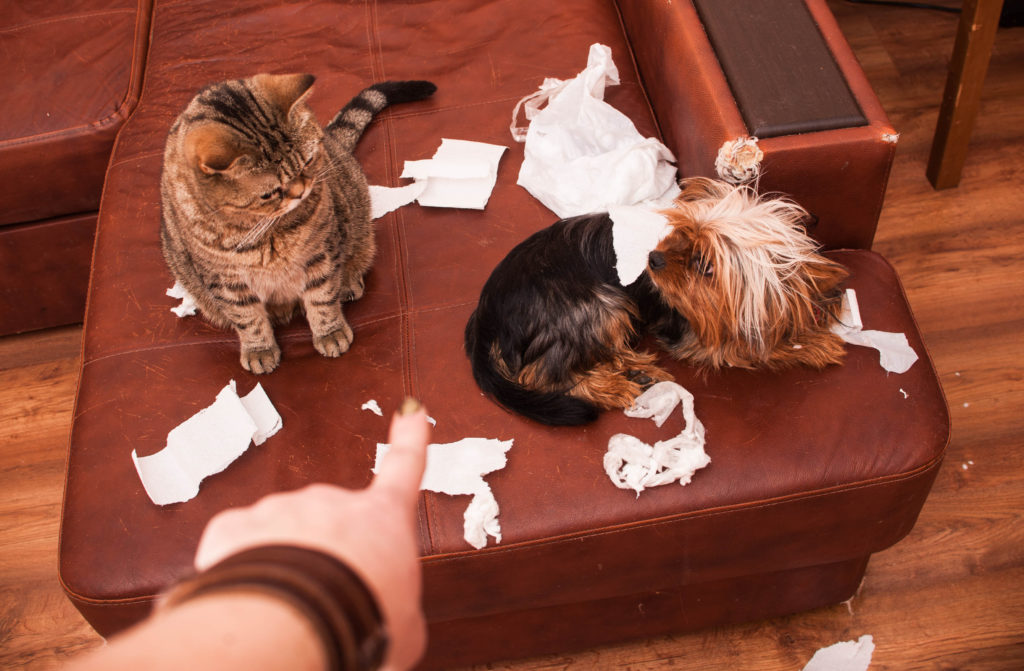 It was all worth it. For the next sixteen years, we were the best of friends. Along with the solemn responsibility of being a pet owner, I got to experience the love of the human-animal bond. Sometimes I even ask myself who rescued who—and I think the answer is that we rescued each other!
However, every situation is different. We took a new puppy into our home, but what about adult dogs and cats? Most of us know very little about a new pet we add to our household, and this can make for some definite challenges.
There are a few things to consider: Where did they live before the shelter? What emotional trials did they endure? What were they exposed to environmentally and emotionally? We're often left with many unanswered questions, which is why a veterinarian exam is so essential. You'll learn valuable information about vaccinations, worming, and the overall health of your new dog or cat.
After graduating from Bel Rea Institute of Animal Technology, I worked at the Denver Dumb Friends League as head Surgical Tech. I learned that rescue animals aren't necessarily always strays and that being in a shelter means something is wrong with them. Pets can end up in shelters for a wide range of reasons. Maybe the family had to move to a location where animals aren't allowed. Maybe they can no longer afford to keep their dog or cat. Or maybe it's just not the right time in their lives to care for a pet.
In shelters you'll find young and old dogs, healthy and not-so-healthy cats, sad and happy animals, and everything in between. But they all have something in common: each and every one of them has a story. So before you bring a rescue animal into your home, consider their story. Were they loved or abused? Are they already trained? Are they healthy?
Another thing these animals have in common is stress from living in the shelter. Stress depletes vitamins and minerals, creates anxiety and behavioral problems, and affects the immune system (which can be borne out in allergies or gastrointestinal issues).
The good news is that you can take some simple steps to help ease the stress and transition, both for you and your new pet. First of all, remember that little Fluffy doesn't know right now that she's going to her forever family. Trust and companionship are built over time, but in most cases it's not a difficult task. As you love and support Fluffy, you'll eventually see the bond growing between you. Of course, each pet is different, and bonding doesn't happen overnight. The timeline for building complete trust in one another will vary.
Bonding Tips
The following bonding tips can help build up trust for both of you.
Play time: Try tug of war, hide and seek, chasers and teasers, and throwing balls or running together in the backyard.
Cuddle time: Don't forget to make time for plenty of cuddling, petting, and scratching while you watch television or lay on the floor.
Hand feeding: This is simply feeding your dog or cat right out of your hand, and it's especially useful for shy or fearful dogs.
Training: Creating a routine around training is critical. Your pet needs to know what's expected of them, and routine provides them a sense of comfort. Training also teaches your pet a language for understanding what you want from them.
As you bond with your pet, try not to rush it. All relationships are built on trust that we build over time, including the connection with our canine and feline friends.
Diet is another integral part of your pet's health and wellbeing. If it's not properly balanced and tailored for their stage of life, it may cause an increase in anxiety, stress, and other unintended consequences. That's why I personally like the advice of Dr. Karen Becker. For example, she states that "every time you replace a dead food with a fresh food, you are improving your pet's health."
Regardless of the type of food you choose for your pet's diet, I also recommend supplementation from Standard Process Veterinary Formulas. These include the following line of whole food supplements:
Canine Adrenal Support for the adrenals, liver, and immune system.
Canine and Feline Immune Support. Normalizes and supports the entire range of tissues and cellular functions that make up the immune system. Recommended for the first six months.
Canine and Feline Whole Body Support. After six months of Immune Support, switch indefinitely to Whole Body Support. This multivitamin, multimineral, multi-enzyme is an excellent source of trace nutrients and supports all of the body's systems.
Here's kudos to you for sharing your time, love, and home with a lonely and abandoned— but now blessed—rescue animal.
Images from iStock/hedgehog94 (main), ChristinLola (woman and dog), Ershova_Veronika (bad pets). 
Related Topics