This collection features six classic essays from the father of holistic nutrition, Dr. Royal Lee, as read by Stephanie Selene Anderson. Learn about the core principles of Dr. Lee's philosophy, from the de-vitalization of our foods at the hands of industrial processing and conventional farming to the complex, holistic nature of vitamins as they are found in whole foods. For practitioner and patient alike, An Hour of Dr. Royal Lee is essential listening for a true understanding of diet and health.
Available as a downloadable MP3.
To listen to excerpts from An Hour of Dr. Royal Lee, Vol. 1, click on any track title in the player:
Track Summaries:
The Battlefront for Better Nutrition
"Yes, there is a battle going on," Dr. Lee explains in this 1950 article from the magazine The Interpreter. But the war Dr. Lee was referring to did not involve guns or missiles. It was a contest hidden from public view, waged by industrial food manufacturers and processors against small-scale farmers and the country's nutrition pioneers, who saw firsthand the damage that processed foods were inflicting on the national health. Bold articles like these earned Dr. Lee a reputation as America's "fightinist" leader in nutrition.
A Few Facts About Vitamins
In this brief article from 1940, Dr. Lee presents some of his foundational insights about vitamins, including the fact that all vitamins as they are found in food are "complexes," or mixtures of biochemically interrelated compounds, and that taking isolated, synthetic vitamin fractions—unaccompanied by the proper interrelated compounds—is inherently dangerous.

Acidophilus Yeast vs. Acidophilus Bacilli
Dr. Lee explains the science behind his bowel-normalizing product Acidophilus Yeast, known today as Lactic Acid Yeast. This special "mycelium type yeast" converts any dietary carbohydrate into lactic acid within the colon. This not only acidifies the bowel—thus killing potentially dangerous microorganisms that thrive in a more alkaline environment—but also releases enzymes that aid in digestion and provides bulk to stool, all of which help relieve constipation and ensure normal bowel movement. Circa 1940.
The Cost of Malnutrition
In this forward-thinking commentary on preventive health care, Dr. Lee delineates the ways in which vitamin complexes ensure the health of workers. Vitamin A complex, for instance, helps maintain the integrity of mucous membranes and thus prevents infection and lost man hours. Vitamin B complex keeps the nerves and heart functioning properly; vitamin C complex promotes stamina by optimizing the oxygen-carrying capacity of the blood; vitamin D complex prevents cramps, irritability, and bone-calcium loss; and so on. From Let's Live magazine, 1958.
Can Cancer Be Cured?
Dr. Lee presents the case that most successful cancer therapies involve a radical change in diet, quoting Dr. L. Duncan Bulkley: "The present status of the 'Cancer Problem' is…to decide between two quite opposite positions. First, a hypothetical and problematical view of a local, independent, unexplainable, autonomous decision of certain cells to take on and continue a destructive course, for which immense research has failed entirely to find any reason. Secondly, the simple and rational belief that a perverted nutrition, perhaps of longstanding, influences certain cells to depart from their normal mode of action and take on an abnormal activity, pursuing a malignant and destructive course which is naturally kept up by the continued metabolic disturbance. We accept this latter position in regard to many other diseases, why not in regard to cancer?" 1950.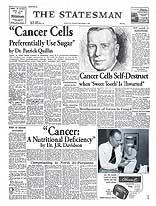 The Cause of Erosion
Dr. Lee, who grew up on his grandfather's farm in Dodgeville, Wisconsin, reflects on his studies of soil health and theorizes as to the chemical and mechanical functions that determine soil's propensity to erode. Contains nuggets of insight with regard to keeping soil fertile and preventing erosion. From The Land. 1947.