From Soil to Supplement eBook in EPUB format
Now you can put the wisdom of Dr. Royal Lee in your pocket and take it with you wherever you go. From Soil to Supplement: A Course in Food, Diet, and Nutrition, Taught by Dr. Royal Lee is available as an eBook in EPUB and Kindle formats as well as in print. This book was designed and edited by Mark R. Anderson to be a self-guided course on human nutrition as taught by Lee, the legendary pioneer in nutritional research and education.
This essential book of nutritional knowledge is as relevant as ever. Everyone knows nutrition depends on the quality of the foods we grow and eat. If you've ever wondered what determines that quality, this book is for you.
The chapter headings, subheadings, and keyword lists were all carefully chosen to show the intimate—and largely ignored—connection between our soil, our food, and our health, and the book has an extensive keyword listing.
Anderson notes, "The wisdom of Dr. Lee, expressed through these sixty-six articles, is presented easily and equally for the homemaker, the farmer, the doctor, and the scientist. These authoritative discourses reveal that simplicity is an inherent component of authenticity. But 'simplicity' does not mean simplistic; rather, the message here is elegant in its grasp and scope of the subject of human nutrition."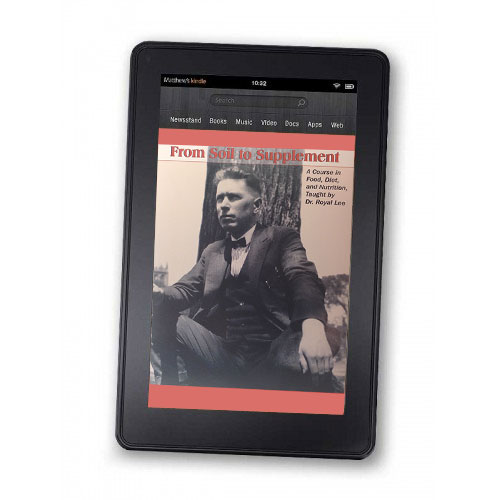 Click on the following links to get this gem of nutritional wisdom!
From Soil to Supplement Kindle
*Please note that eBook formats will not accommodate lined note pages, so the eBook versions do not have the lined note pages you will find in the print version. Click here for the print version of From Soil to Supplement.
Related Topics
Dr. Royal Lee | organic food | soil health | whole food nutrition