Like millions of other outdoorsy types (myself included), you've probably noticed that increasingly warm weather is right around the corner. This is when our appetites seem to slow down and we're likely to eat less. Sometimes when it's hot enough, we can even eat as little as one full meal a day, plus a few healthy snacks. Perhaps this is just a sneaky way of giving ourselves more time gardening and hiking and less time cooking in the kitchen. So why not make that one meal a highly nutrient dense dish?
Maybe staying out of the kitchen is a winter and summer thing for some of you! (Smile) Either way, I thought it might be fun to review the nutrition of heritage grains as well as the relative ease of preparing them. Because the fact is, heritage grains can make a highly nutrient dense meal that satisfies us for many hours.
This allows us to open up our days without guilt and sneak out to do all those things we can only do during the precious few spring and summer months. Or at least the few months we have here in colorful Colorado, basically from May to September, and even then we may be prone to a good, heavy June snowfall!
But Aren't Grains Full of Gluten and Other Icky Things?
There has indeed been an awesome revolution about grains and whether or not we should consume them because of their scary (shiver-shiver) high gluten content! Some people want grains with a more mellow gluten content. Other people think the best choice is no gluten content at all! Fortunately for both groups, there are now endless books, articles, blogs, and even whole websites dedicated to regular whole grains, low-gluten grains, and gluten-free grains. Whatever your particular view point, there something for you.
I consider myself lucky in that I've never had any issues with gluten. I even wrote an article in defense of wheat for the Weston A. Price Foundation, titled "To Gluten or Not to Gluten?" In it, I explore all the reasons why eating gluten-containing grains is a positive step to superior health—unless you have a medically diagnosed case celiac disease.
Nevertheless, the recipes below feature whole grain salads with normal gluten content and low gluten content, plus gluten-free grain salads appropriate for my celiac or gluten-challenged readers. You'll also find sources for organic whole grains grown right here in the United States!
Marvelous Grains

Many of you may already know about the nutrition value of organic whole grains. However, for the those of you who don't know, or who only believe the worse about grains, I want to make some brief nutritional statements about the most common organic whole grains that are now being used to make sourdough bread and other whole grain recipes, including grain salads. These wonderful salads also consist of a plethora of other good ingredients, such as raw veggies, greens, herbs, spices, and finely chopped nuts.
"Whole Grain Benefits

"The benefits of consuming whole grains have been documented for years. At a 2010 symposium, researchers reviewed current evidence regarding the health benefits associated with whole grains and its role in disease risk reduction. The researchers concluded that there was substantial evidence to support that adequate whole grain consumption is associated with lower risk of chronic diseases such as coronary heart disease, diabetes and cancer. The researchers also reviewed evidence that supported the use of whole grains to aid in weight management and gastrointestinal health.

"Potential Nutritional Consequences of a Gluten-free Diet

"The gluten-free diet may be a fashionable trend for some but for those with celiac disease or non-celiac gluten sensitivity it's a medical necessity. Potential consequences of the diet include increased fat intake due to decreased intake of gluten-free grains and an increased consumption of foods high in fat that are frequently substituted for grain foods. Low calcium and phosphorous intake may also result due to lactose intolerance. Other nutritional consequences secondary to decreased grain consumption include a decreased intake of fiber, iron, folate, niacin, B-12 (due to the lack of fortification of most gluten-free breakfast cereals), and zinc"
—Excerpt from Celiac Support Association: "Are Gluten-Free Grains on Your Plate?"
Heirloom Grains: Einkorn, Emmer, Spelt and Organic Wheat
"With its simple chromosomal structure, high lutein content (which supports eye health), and long history of cultivation (dating back nine thousand years or so), einkorn can be handled by many people who react badly to readily available commercial wheat, and is low (mellow) in gluten content.

"Emmer, also known as farro medio, is another grain known to history even longer than einkorn. Emmer also holds the distinction of having more protein than any other member of the wheat family, a whopping 28 percent. Spelt, the favorite grain of St. Hildegard of Bingen, a mystical healer of the 12th century, is only slightly younger (references to it date to around seven thousand years ago). It is the first of the hexaploid grains but can still be considered ancient. It too is often easier to digest than newer forms of wheat.

"Though, in their defense, even bread wheat-soft or hard, red or white-dates back at least six thousand years.) Rye, which does not contain true gluten, can be problematic for celiac sufferers because of the similarity of the protein structures, but often presents no problems for those with sensitivities to gluten."
—Excerpt from the Traditional Cook: "Rethinking the Gluten-Free Craze"
Cooling Grain Salad Recipes
Personal notes: Want the recipe to be smaller or larger? Try a recipe converter. And to remove phytic acid, see "How to Soak and Cook Whole Grains" near the end of this post.
Artichoke Heart, Kale, and Emmer or Einkorn Farro Salad
—Adapted from Bluebird Grain Farms. The author of this recipe recommends a combination of curly and Tuscan kale.
Ingredients
2 cups whole grain emmer or einkorn farro, dry
1 tablespoon virgin olive oil
2 tablespoons butter
1 large shallot, cut into long, thin slices
1 teaspoon Italian dried herbs
Sea salt, to taste
4 bunches (16–18 stems) kale, stems removed, washed, and coarsely chopped
⅛ cup dry white wine
1 (14 oz.) can artichoke hearts, rinsed, quartered, and drained (use marinated artichokes if you like)
½ cup feta cheese
 For the Creamy Artichoke Dressing:
1 (14 oz.) can artichoke hearts, rinsed and drained
½ cup virgin olive oil
3 tablespoons white balsamic vinegar
2 tablespoons freshly squeezed lemon juice
2 tablespoons shallot, minced
2 cloves garlic, mined
1 teaspoon Italian dried herbs
2 tablespoons honey mustard
Salt and pepper, to taste
 Instructions
Bring 6 cups salted water to a boil in medium-size pan. Add emmer or einkorn. Simmer on low heat (50–60 minutes for emmer or 20–25 minutes for einkorn). Drain and set aside to cool. (This step can be done up to 5 days advance.) Alternatively, you can use a rice cooker for this step (use the brown rice setting). You will want 1 cup farro to 1½ cups water.
In a large saucepan over medium heat, heat olive oil and butter. Add sliced shallot and simmer until translucent (8–10 minutes). Add Italian herbs and a dash of salt, and sauté for 2 minutes. Add chopped kale and white wine to pan. With burner still on low, cover saucepan with a lid. Steam kale 2–3 minutes, or until slightly wilted (it should still maintains its structure). Uncover, turn off heat, and transfer immediately to a large bowl to cool. Once kale mixture is cool, add cooked emmer or einkorn. Mix in quartered artichoke hearts.
Prepare dressing: Place all ingredients in a blender and process until smooth. About 10 minutes before serving, toss dressing with salad and sprinkle with feta cheese.
 Emmer Farro Salad with Fresh Garden Vegetables
—Adapted from Bluebird Grain Farms
Ingredients
3 cups filtered water
1 cup whole grain emmer farro
½ cup olive oil, to taste
¼ cup red wine vinegar, to taste
½ cup chopped red onion
½ cup chopped celery or fennel
½ cup chopped carrot
½ cup peeled and seeded cucumber
½ cup tomatoes, seeded and chopped
1–2 handfuls arugula, chopped
2 cloves garlic, finely chopped
1 small fresh red chili pepper
2 tablespoons of capers, drained
¼ cup flat leaf parsley
¼ cup basil or mint
Oil-cured black olives for garnish
Instructions
In a saucepan, bring water to a boil and salt it lightly. Add emmer. Reduce heat to low, cover, and simmer 30–35 minutes, or until grains are soft but still have some firmness at the center). If the emmer is cooked but hasn't absorbed all the water, drain it in a sieve. (Not all brands absorb water at the same rate.) Place the drained emmer in a bowl and let it cool.
Add olive oil, vinegar, salt, and pepper. Toss to coat. Fold in onion, celery or fennel, carrot, and cucumber. Add the tomatoes, arugula, garlic, and red chili, if using. Next, add capers, parsley, and basil or mint. Taste for seasoning, adding more oil, vinegar, salt, or pepper, if you like.
Garnish salad with olives, if desired. Serve at room temperature
Warm Einka (Einkorn) Salad
—Adapted from Bluebird Grain Farms
Ingredients
1¼ cups whole grain einkorn
2 cups filtered water
½ teaspoon kosher salt, plus more to taste
4 tablespoons olive oil, plus more to taste
Freshly ground black pepper, to taste
4 oz. cremini brown mushrooms, cleaned and trimmed (keep stems)
½ small yellow onion, finely diced
1 tablespoon minced fresh garlic (about 3 cloves)
1½ teaspoons fresh thyme leaves, minced
1 teaspoon fresh marjoram or oregano, minced
1 small leek, cut in half lengthwise, cleaned, and thinly sliced (use mostly white part only)
3 oz. asparagus spears, trimmed and cut into ¼-inch rounds (or other seasonal vegetable such as broccoli)
⅓ cup fresh peas or small frozen peas, thawed
¼ cup chopped fresh parsley, chopped
¼ cup walnuts, toasted and finely chopped (optional)
¼ cup feta cheese (optional)
Instructions
Place einkorn in a 2-quart pot and cover with cold filtered water. Add ½ teaspoon kosher salt and bring to a boil. Reduce heat, then cover and cook for 30 minutes (water should mostly be absorbed). Remove from heat. Let stand, covered, another 10–15 minutes. Drain and let grains cool, then spread them out on a rimmed sheet pan. Toss with olive oil, salt, and pepper to taste.
In a food processor fitted with the blade attachment, finely chop mushrooms. Warm 2 tablespoons of olive oil in sauté pan over medium heat. Add mushrooms and sauté until liquid mostly evaporates. Season with kosher salt, then remove from pan.
Heat remaining 2 tablespoons of olive oil in pan. Add yellow onion and a pinch of salt. Cook until soft, about 5 minutes. Add garlic, thyme, marjoram or oregano, more salt, and sliced leek to pan. Cook, stirring frequently so leeks don't turn brown. Add asparagus and stir-fry for about 1 minute. Add peas and 2 tablespoons of water. Cover and cook for 1 minute longer. Uncover and stir in mushrooms, einkorn, and parsley. Remove from heat.
Season with salt and pepper to taste. Add more olive oil if desired. Top with optional walnuts and feta. Salad may be served warm or at room temperature.
Whole Grain Spelt Salad With Leeks and Marinated Mushrooms
—Adapted from Serious Eats
Ingredients
½ cup plus 1 tablespoon extra virgin olive oil, divided
1 lb. cremini mushrooms, diced
1 large (12 oz.) leek, diced
2 medium cloves garlic, thinly sliced
1 teaspoon picked thyme leaves, minced
Kosher salt and freshly ground black pepper
¼ cup plus 2 tablespoons cider vinegar, divided
6 cups (about 24 oz. dry) cooked whole grain spelt
2 small Persian cucumbers, quartered lengthwise, then sliced crosswise into ¼-inch pieces
½ cup minced flat-leaf parsley
¼ cup minced chives
Espelette pepper powder, for garnish (optional)
Instructions
In a large skillet, heat 3 tablespoons olive oil over medium-high heat until shimmering. Add mushrooms and cook, stirring, until tender and liquid evaporated, about 5 minutes. Add leek, garlic, and thyme. Season with salt and pepper. Cook until leak is tender, about 4 minutes. Transfer to large bowl and stir in ¼ cup of the apple cider vinegar. Let stand 15 minutes.
In a large bowl, stir together spelt, cucumbers, and mushroom-leek mixture. Stir in remaining 6 tablespoons olive oil, 2 tablespoons cider vinegar, parley, and chives. Season with salt and pepper. Spoon salad into bowls and sprinkle with espelette pepper, if using.
Whole Wheat Salad with Blood Oranges, Feta, and Red Onion Vinaigrette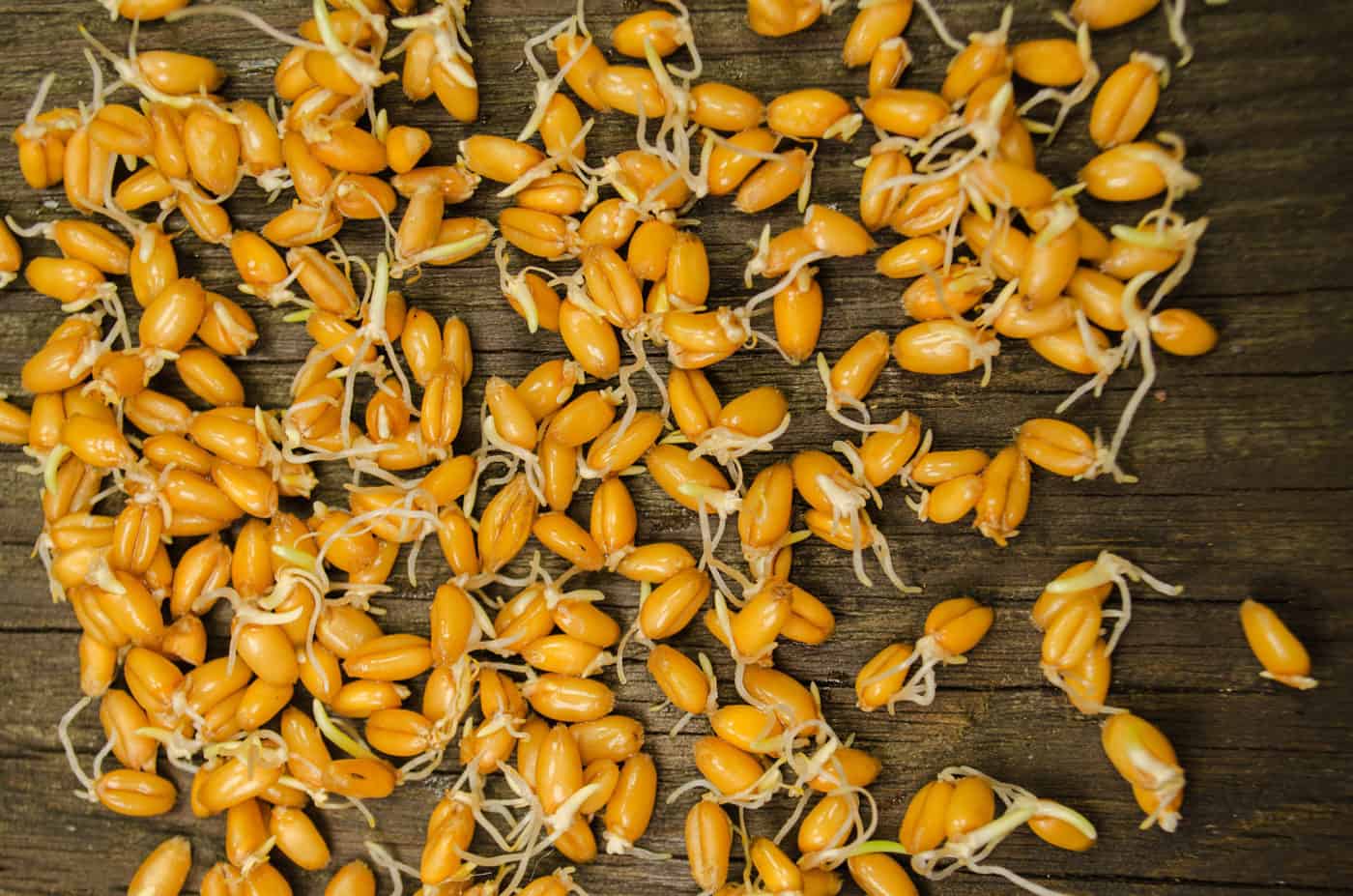 —Adapted from The Kitchn
 Ingredients
For the vinaigrette (makes 1 cup):
½ cup plus 2 teaspoons extra virgin olive oil
1 medium red onion, thinly sliced
1 clove garlic, minced
½ teaspoon fresh thyme leaves (from about 3 sprigs)
¼ cup cider vinegar
2 tablespoons balsamic vinegar
4 teaspoons sugar
½–1 teaspoon salt
Black pepper
 For the salad:
1 teaspoon salt
1 cup wheat berries
2 medium blood oranges or other citrus fruit
3 oz. feta cheese, cut into chunks
Handful flat-leaf parsley, chopped
Optional: 1 cup diced fennel, diced radishes, sliced green onions, or diced celery
Instructions
To make the vinaigrette: Heat 2 teaspoons olive oil in a skillet over medium heat. Add sliced onion, season with salt and pepper, and cook until soft, about 10 minutes. Add garlic and thyme. Cook another 1–2 minutes.
Transfer onion mixture to a tall-sided container. Add the vinegars, ¼ cup extra virgin olive oil, sugar, salt, and a few grinds of fresh pepper. Use an immersion blender to blend until smooth. (Alternatively, use a blender or food processor.) This dressing will keep refrigerated for several weeks.
To make the salad: Bring 4 cups of water to boil in a medium saucepan. Add teaspoon of salt and the wheat berries. Reduce to a simmer and cook until wheat berries are tender, about 25-30 minutes. Drain.
In a medium bowl, combine the warm wheat berries with 6 tablespoons of the vinaigrette. Stir to combine. Cut blood oranges or other citrus into segments and dice small. Add orange pieces, feta, parsley, and any additional vegetables to the wheat berries. Toss and serve.
Gluten Free Grain Salad Recipes

Personal note: Before you continue with the following recipes, please see this fact sheet from the Celiac Support Association. If you are a celiac patient, it is important that ALL ingredients be checked by each individual person to be sure that the entire recipe fits the criteria recommended by your medical doctor.
 Brown Rice Salad with Apples, Walnuts, and Cherries
—Adapted from The Kitchn

Ingredients
1 cup brown rice
¾ cup frozen peas, thawed
1 apple, diced into ½-inch pieces
¼ cup dried cherries, roughly chopped
⅓ cup walnuts, roughly chopped
1 bunch chives, finely chopped
For the dressing:
2 cloves garlic, minced
1 tablespoon raw organic honey
1 teaspoon yellow miso paste
2 tablespoons olive oil
2 tablespoons balsamic vinegar
4 tablespoons toasted sesame seeds
Instructions
Cook brown rice in about 2 cups of simmering water until tender (or according to package directions). Fluff and cool to room temperature.
Combine thawed frozen peas, apple, cherries, walnuts, chives, and cooled rice in a large bowl.
Whisk together all ingredients for dressing. Stir into rice mix until coated. Garnish with extra chives and sesame seeds. If you have time, rest for at least 8 hours or overnight for flavors to come together.
Golden Quinoa Salad with Radish, Dill, and Avocado
—Adapted from The Kitchn
Ingredients
1 cup golden quinoa
3 tablespoons extra virgin olive oil, plus more for pan
1¾ cups homemade chicken or vegetable broth
8 small red radishes, well-cleaned, tops removed
⅓ seedless English cucumber (about ¼ lb.), unpeeled
1 large shallot
Lightly filled ⅔ cup dill fronds (stems removed)
Juice and zest of ½ lemon (about 1½ tablespoons juice)
½ tablespoon balsamic vinegar
½ cup sliced raw almonds
½ cup pitted dates, roughly chopped
½ cup grated Parmesan cheese
Flaky sea salt and freshly ground black pepper
1 ripe avocado
Instructions
Rinse quinoa 2–3 minutes in a fine mesh strainer, rubbing vigorously. Drain well. Heat drizzle of olive oil in 2-quart saucepan over medium-high heat. Add quinoa and cook, stirring, for 1 minute. Pour in broth. Bring to a boil, cover, and reduce heat to low. Cook for 15 minutes. Turn off heat and let sit, covered, for 5 minutes.
Spread cooked quinoa in an even layer over a large baking sheet lined with parchment paper. Set aside to cool while preparing vegetables. Finally dice radishes (about ¼-inch to a side), cucumber, and shallot. Finely chop dill fronds. In a large bowl, toss vegetables and quinoa together.
Fold lemon zest into quinoa mixture (feel free to zest lemon right into the bowl). Whisk together lemon juice, olive oil, and balsamic vinegar until emulsified and thick. Toss this with the quinoa. Fold in almonds, dates, and Parmesan. Season to taste with salt and pepper. When ready to serve, top with chopped avocado.
Fresh Green Teff Salad
—Adapted from Teff Tribe
Ingredients
½ cup brown teff
1 cup water
1 teaspoon sea salt
2 medium cucumbers, shaved into long ribbons
2 cups baby spinach
½ avocado
¼ cup toasted pumpkin seeds and pine nuts
For the salad dressing:
1 tablespoon olive oil
1 tablespoon Dijon or seeded mustard
¼ cup apple cider vinegar or vinegar of your choice
2 tablespoon water
1 teaspoon raw honey (optional if you like a sweeter taste)
Instructions
Pour teff into medium-sized pot. Add water plus a pinch of salt. Bring to a boil. Reduce heat and simmer, covered, until all the water has been absorbed (roughly 6–8 minutes). Remove from heat and let sit for 10 minutes, covered. Remove lid and fluff with a fork.
In a large mixing bowl, combine teff, cucumbers, spinach, avocado, and seeds. Mix well.
Place all salad dressing ingredients in a jar. Shake until dressing is smooth and has a slightly thick consistency. Drizzle over salad. Season with salt and pepper to taste. Serve immediately.
Wild Rice Salad

—Adapted from the Food Network. (This recipe is featured in Ina Garten's Barefoot Contessa: How Easy Is That?). I highly recommend watching the accompanying video of Ina Garten preparing this dish. It's a must-see!
Ingredients
1 cup (6 oz.) long-grain wild rice
Kosher salt
2 navel oranges
2 tablespoons good olive oil
2 tablespoons freshly squeezed orange juice
2 tablespoons raspberry vinegar
½ cup seedless green grapes, cut in half
½ cup pecans, toasted
¼ cup dried cranberries
2 tablespoons scallions, white and green parts, chopped
½ teaspoon freshly ground black pepper
Instructions
Place wild rice in a medium pot with 4 cups of water and 2 teaspoons of salt. Bring to a boil. Simmer, uncovered, 50–60 minutes, until rice is very tender. Drain well and place the rice back in the pot. Cover and allow to steam for 10 minutes.
While the rice is still warm, place it in a mixing bowl. Peel the oranges with a sharp knife, removing all the white pith. Cut between the membranes and add the orange sections to the bowl with the rice. Add olive oil, orange juice, raspberry vinegar, grapes, pecans, cranberries, scallions, ½ teaspoon of salt, and pepper. Allow to sit for 30 minutes for the flavors to blend. Season to taste and serve at room temperature.
How to Soak and Cook Whole Grains
—Adapted from Traditional Cooking School by Gnowfglins
Ingredients
Grain of choice
Warm water (click on link above and see chart for the amount of water you'll need for each grain)
1 tablespoon acid per 1 cup liquid (kombucha, raw apple cider vinegar, lemon juice, buttermilk, kefir, whey, yogurt, etc.)
¼–1 teaspoon sea salt per 1 cup grain
Instructions
The night before, combine grains, water, and acid in a pot or glass bowl. (Do not use stainless steel as it is reactive to the acid). Soak grains for at least 7–8 hours prior to cooking. The exception is rice, which should be soaked for at least 12–14 hours. Cover pot or glass bowl with lid or cloth, and let sit out on counter.
The next day, when you're ready to cook the grains, bring the pot with water and grains to a boil. Reduce heat to low and cover. Simmer until grain is tender and water is absorbed. Don't lift the lid while cooking, except very quickly once or twice to check if water is still at a gentle simmer. (You may also put your rinsed and drained grains in a steamer if you prefer not to cook on the stovetop.)
 Superior Grain Sources
Hopefully, you're now ready to prepare a few of these wonderful grain salads. Before you get started, allow me to provide you with three of my favorite sources of organic grain. You'll find them all in the Weston A. Price Shopping Guide and the Find Real Food app. Both of these are great resources that will help you find organic choices for your shopping pleasure.
Organics by Lee: Named after the famous Dr. Royal Lee, this company provides grains of the utmost quality. They carry nine different grains, including organic wheat, buckwheat, and quinoa. My first choice is especially for organic wheat, followed by buckwheat and quinoa!
 Bluebird Grain Farms: This is a small family-owned grain farm, and it's one of the few I know of to grow organic einkorn, emmer, spring wheat, and rye berries right here in the Untied States. Their grains are also sproutable. This is my go to source for all my einkorn, emmer, and rye berries!
Bob's Red Mill: Definitely my go-to place for organic spelt and other gluten-free grains. Theit variety is extensive enough that I rarely need to shop elsewhere.
AUTHOR'S NOTE
To choose your organically grown and fresh ingredients wisely, use the following criteria:
chemical- and hormone-free meat
wild-caught fish
pasture-raised, organic eggs
whole, unrefined grains
virgin, unrefined, first-press organic oils
whole-food, unrefined sweeteners
pure, clean, spring water
sea salt
raw and/or cultured milk and cream products
Note from Maria: I am a Certified Natural Health Professional, CNHP, not a medical doctor. I do not diagnose, prescribe for, treat, or claim to prevent, mitigate, or cure any human diseases. Please see your medical doctor prior to following any recommendations I make in my blogs or on my website.
Images from iStock/Mizina (main image), egal (rows of grains), lesichkadesign (sprouted wheat), hbak (wild rice salad).