I rarely tire of finding uses for all the beautiful, vibrant heirloom tomatoes from my garden. Whether I'm making a sauce to put away for the winter, piling slices high on crusty toasted bread with thick-cut bacon and crisp lettuce, blending them into my favorite silken gazpacho, or eating them straight from the cutting board with a sprinkle of good salt and cracked pepper, a juicy and flavorful tomato is one of the simplest, and most delicious, pleasures in existence.
That's why I'm more than happy finding new ways to assimilate them into my daily life, whenever and however possible.
When planning my garden each year, I'm always sure to incorporate a variety of different tomato breeds so I have lots of distinctive colors and flavor profiles to choose from. Since we eat with our eyes first, I tend to appreciate heirloom tomatoes. These beautiful creations generate a range of colorful, lively hues, even for those with limited artistic creativity.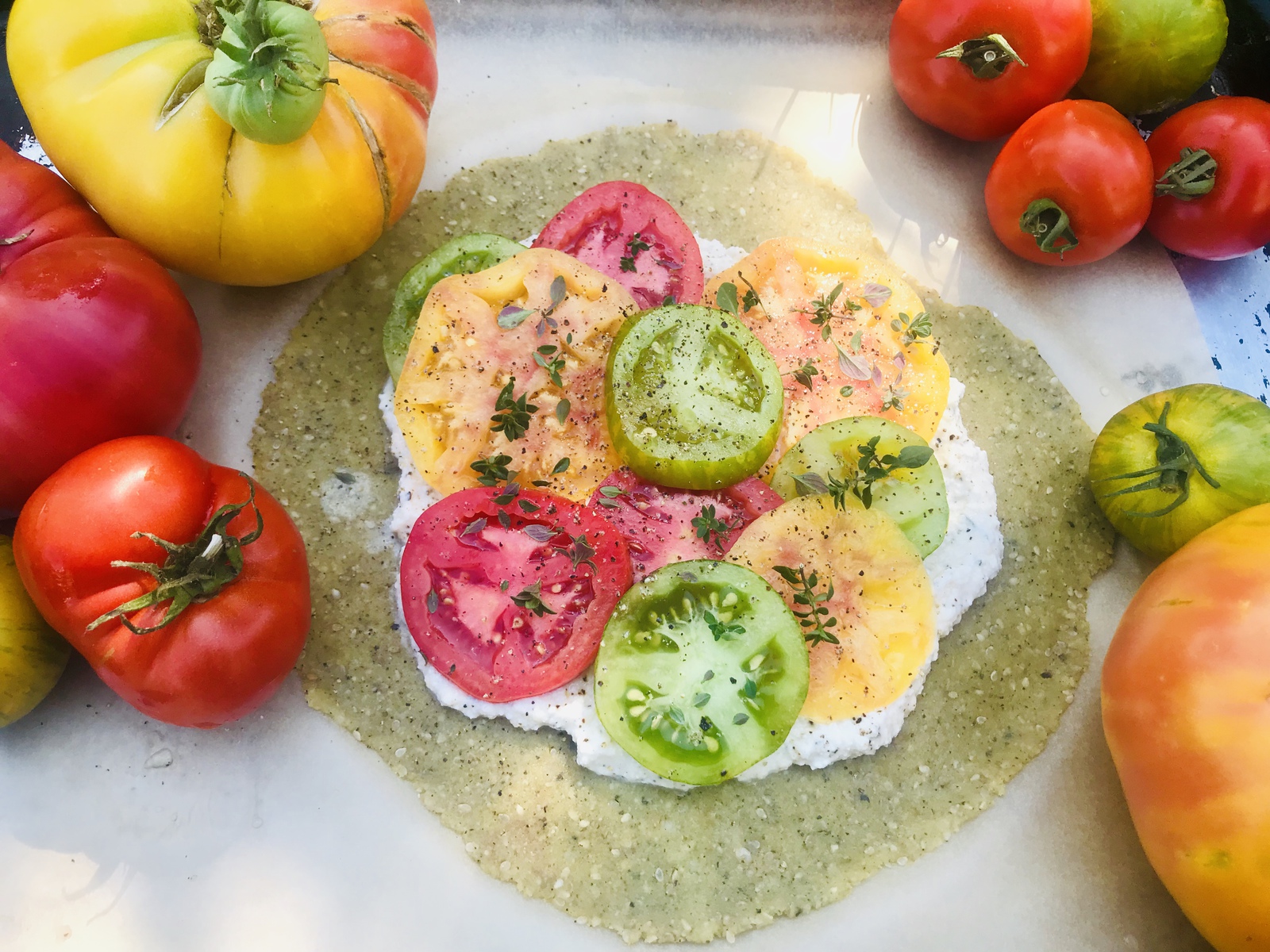 This week, my tomato adventures led to a gorgeous spectrum of colors displayed in a free-form tart. Also known as a galette or a crostata, this is a dish where rustic simplicity meets heavenly elegance—and it's easily the simplest tart to make. Seriously, once you make the pastry, you can prepare a galette in the oven in under ten minutes.
One of its most redeeming qualities is the expectation that a galette will be both sophisticated and simple. No perfect edges, no expertly fluted crust. The pressure is all but eliminated when free-form becomes part of the definition.
Galettes can be either sweet or savory. They're an excellent way to use up everything from fruits, vegetables, and meats, as well as leftover pieces of pastry or dough from previous projects. Likewise, rather than make a full-sized pie for a crowd, a galette is a perfect dish for a smaller gathering—and it can be made just as easily into individual portions.
This galette showcases the beauty of juicy, late-summer tomatoes in all their colorful glory. The base of luscious, creamy ricotta combined with a pinch of fresh thyme and lots of cracked pepper is topped by an uncomplicated arrangement of vibrant fruit. It's one of the prettiest little snacks this side of September.
I used one of my favorite grain-free doughs of ground seeds and nuts to make the fragrant crust. I find it adds another dimension of flavor, and I include the recipe below. But feel free to use any pastry you like—pie dough, puff pastry, or even biscuit dough would each lend a unique approach.
And don't worry if you can't find different colored tomatoes, either. The tart will be just as delicious and lovely with any color you can find.
Heirloom Tomato-Ricotta Galette
Makes 1 (9-inch) tart
Prep time: 25 minutes
Cook time: 30 minutes
Ingredients
For the crust: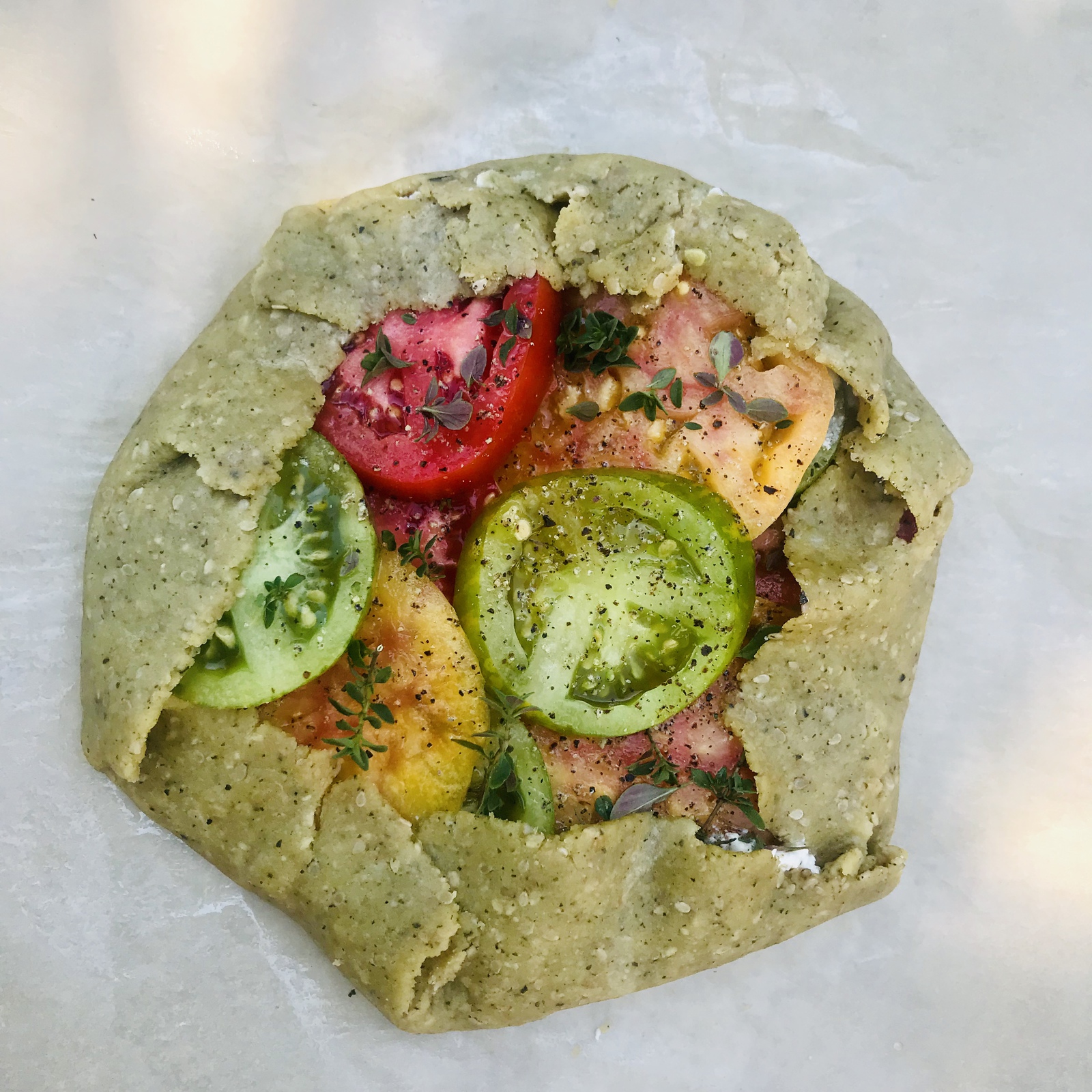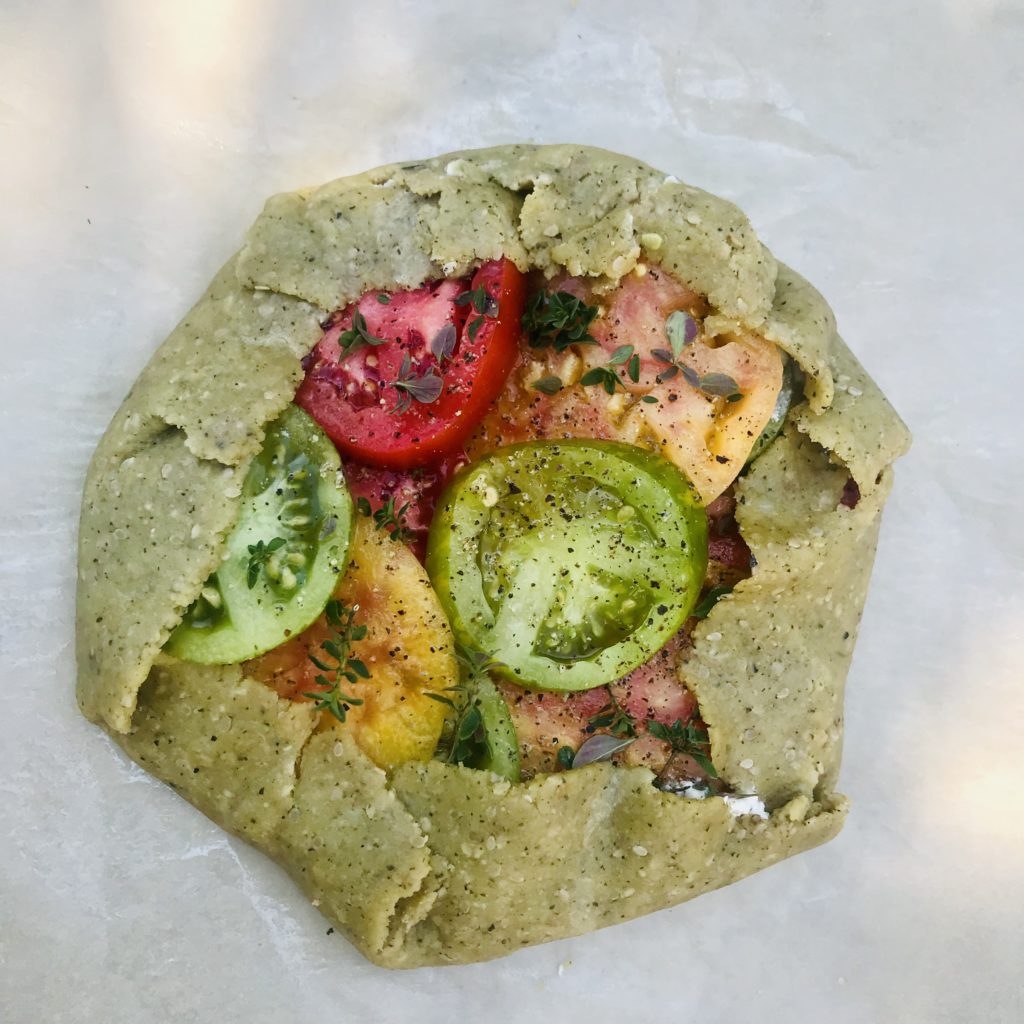 2 tablespoons coconut flour
¼ cup almond flour
2 tablespoons pumpkin seeds, finely ground
2 tablespoons sunflower seeds, finely ground
2 tablespoons sesame seeds
1 tablespoon flax seeds, finely ground
2 tablespoons grated parmesan cheese
½ teaspoon salt
½ teaspoon pepper
½ teaspoon baking powder
1 egg
1 tablespoon water
2 tablespoons melted butter
For the galette:
⅔ cup ricotta cheese
3 tablespoons grated Parmesan cheese, plus more for garnish
1 small clove garlic, minced
3 thyme sprigs, leaves removed
1 small egg
Salt and cracked pepper, to taste
3–4 medium tomatoes, thickly sliced
Instructions
Prepare crust: combine all ingredients in a large bowl and let sit for 10 minutes. Proceed with recipe or refrigerate until ready.
Stir together ricotta, Parmesan, garlic, thyme, and egg. Season with salt and lots of pepper.
Assemble galette: Preheat oven to 400°F. Place a sheet of parchment paper on a workspace. Place dough ball on top of parchment, then top with a second sheet of paper. Roll dough out into a large circle, about 12 inches in diameter and ¼ inch thick. Transfer to a baking sheet.
Remove top parchment paper. Spread ricotta mixture over center of dough, about 8 inches in diameter. Arrange sliced tomatoes atop ricotta in a slightly overlapping pattern.
Using bottom parchment paper, carefully pull up sides of dough to cup filling, overlapping in folds, and going around the entire edge until filling is encased. Sprinkle top with more Parmesan cheese.
Transfer to oven and bake on center rack until golden-brown, about 18–25 minutes total, turning after 10 minutes. Let cool on baking sheet for an additional 10 minutes, then cut into serving pieces or transfer to a cooling rack to finish cooling. Serve hot or at room temperature, for best results. But it's also yummy cold.

Images from Briana Goodall. 
Related Topics