I'm delighted to introduce my new muscle testing seminar, an endeavor over 10 years in the making. At the February 8th Muscle Response Analysis (MRA) Seminar in Thornton, I'll present the Muscle Response Analysis Chart, which is based on the 7 sets of reflex points. Practitioners will love this work—it's simple, reliable, and consistently gets good results with patients.
The MRA Chart illustrates the science behind Muscle Response Analysis. In beautiful, full-color detail, it highlights the following 7 reflex points—organ, immune, vital signs, digestive, mineral, endocrine, and vitamin/Cataplex.
This is an informative tool that will open up new lines of dialogue between practitioner and client. The MRA Chart will not only help patients understand why certain contact points are used for muscle testing, it will also remind practitioners what points to test off, based on the issue their patient needs help with. Practitioners who use this amazing guide will make leaps and bounds providing greatly improved service to their clients.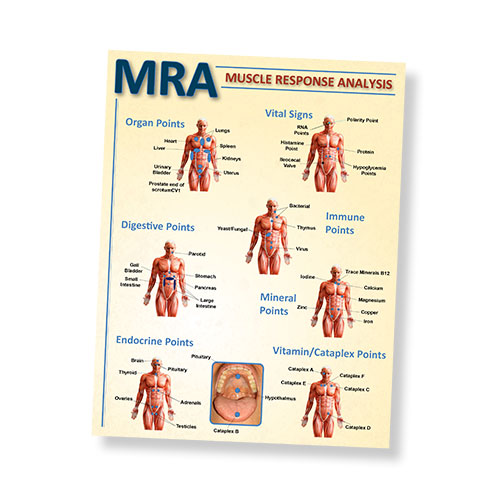 Related Topics
holistic doctors | holistic health