Ask Chef Phyllis:
I just discovered Indian cuisine, which I always thought was just curry. But recently I ate something called Peas with Paneer (Mattar Paneer) at my new and maybe soon-to-be favorite restaurant. It was very good. They told me it wasn't made from soy (since I thought I was eating tofu), but it was a cow's milk cheese. I would like to know more about this cheese, and if I can make it at home. I have seen it in the Asian market under the name "panir." What's the difference?
—Katherine Hummel, West Des Moines, IA
Welcome to a world of new exotic spices, different textures, and mouthwatering tastes!
For spice is the soul of Indian cooking, as my friend Bina Mehta tells me.
A wealth of authentic Indian cuisine recipes are just being discovered by Westerners. The idea that many of us associate curry only with India is interesting. Curry is of course a very popular dish in India and many other Asian cuisines, with Pakistan, Sri Lanka, Malaysia, Singapore, Thailand, and Indonesia putting their particular stamp on this staple. Ironically, my first acquaintance with curry was from a take-away shop (what we call take-out) on the streets of London—but that's another story.
Paneer is indeed a cheese that can be made at home. Although many homemade cheeses have now become fashionably artisanal, most, if not all, farm wives from the 19th and early 20th century knew how to make this one. Cheese making was an ideal method for preserving the surplus milk from a lactating animal, whether it was cow, goat, or sheep milk.
First let's classify this cheese. Paneer is a "farmer's cheese," meaning that it's uncured, usually not salted or aged, acid set, and ready to eat almost immediately. In this way, paneer (or panir) is identical to fresh cheese, fresh mozzarella, basket cheese, cottage cheese, and farmer's cheese.
And it's easy to make. By inoculating warmed milk with an acid, you induce separation of curds and whey, making a soft cheese. Then you drain it by hanging, and sometimes weigh it down (if you desire a drier cheese like paneer), before refrigerating for later use.
In India, lemon juice is preferred over white vinegar for clabbering the milk. But in my experience I've found that lemons vary in acid content, which affects the curdling/clabbering process, and they also vary greatly in size. For a half gallon of milk—and for assured success—I recommend ½ cup vinegar over the juice of 2 lemons every time.
Let's begin making the cheese.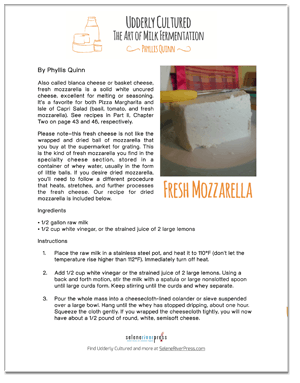 Click the icon to the right to download free cheese-making instructions from Udderly Cultured: The Art of Milk Fermentation.
For Mattar Paneer (Peas with Paneer): After it's weighted, place the cheese in the fridge for about 6 hours, then cube into ¾- to 1-inch squares. Proceed with the recipe that follows.
Mattar Paneer
This dish ideally calls for fresh, ripe tomatoes, but in winter, when fresh tomatoes lack flavor, I suggest using canned.
Ingredients

For the paneer:
½ gallon milk
½ cup vinegar
Follow photo instructions from image link above.
For the Mattar Paneer:
½ cup melted ghee
8 oz. panir (follow image link above for recipe), cut into ¾- to 1-inch cubes
2 medium onions, finely chopped
3 cloves garlic, finely chopped
2 teaspoons finely grated fresh ginger
2 teaspoons ground coriander
1 teaspoon ground cumin (I like Bina's Roasted Cumin)
1 teaspoon ground turmeric
½ teaspoon chili powder (optional)
2–3 firm, large, ripe tomatoes, chopped, or 1 (15 oz.) can organic fire-roasted petite diced tomatoes
1 teaspoon salt
1 teaspoon garam masala (I like Bina's Garam Masala)
1 lb. fresh peas in the pod, shelled, or substitute 1 (10 oz.) package frozen peas
2 tablespoons fresh cilantro leaves, chopped
Instructions
Pour ghee in a medium frying pan. Fry paneer cubes one layer at a time, turning carefully so they brown on all sides. Gently lift out and put them on a plate lined with a paper towel.
Remove most of the ghee, reserving about 2 tablespoons in pan. Fry onions, garlic, and ginger over medium heat, stirring frequently until they turn golden.
Add ground spices and stir for 2 minutes longer.
Add tomatoes, salt, and garam masala. Cook and stir until tomatoes are pulpy, adding a little hot water if mixture is too dry.
Add peas, then add fried paneer cubes. Cover pan and cook 5–8 minutes.
Pour mixture into a bowl and sprinkle with the chopped fresh cilantro leaves. Serve warm or cool, with cooked rice or chapati (also known as roti).

---
AUTHOR'S NOTE
To choose your organically grown and fresh ingredients wisely, use the following criteria:
chemical- and hormone-free meat
wild-caught fish
pasture-raised, organic eggs
whole, unrefined grains
virgin, unrefined, first-press organic oils
whole-food, unrefined sweeteners
pure, clean, spring water
sea salt
raw and/or cultured milk and cream products
Photo by Phyllis Quinn