Enjoy the latest installment of Dr. Lowell Keppel's "Good to Know" series for practitioners.
Why this new product? And why should you switch from Cataplex B to the new Cataplex B-Core?
Simple. The new Cataplex B-Core is better because it now contains only eight combined whole foods—bovine liver, wheat germ, rice bran, organic beets, nutritional yeast, organic carrot, organic sweet potato, and bovine adrenal—thus providing a higher amount of the critical anti-paralysis vitamin known as vitamin B4.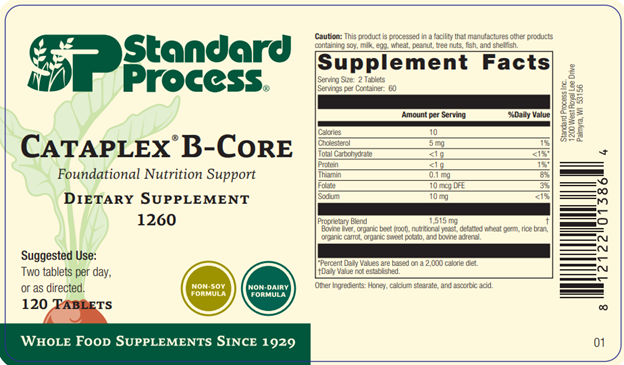 As described in Dr. Royal Lee's Product Bulletins, the original Cataplex B developed by Dr. Lee in the 1930s contained naturally associated factors from yeast, cereal germ, beet juice, and liver. The new Cataplex B-Core marks a return to this original formulation.
The B4 anti-paralysis vitamin is not recognized by government regulators as a human requirement, so you will therefore not find it listed or measured in the product ingredients. But just try to get along without out it.
To understand the importance of B4, let's start with this quote from an important 1930 paper by Vera Reader:
"The animals, grown to maximum weight with adequate, but not excess, vitamin B4 for normal growth, were completely deprived of both the alkali-labile vitamins B1 and B4 until polyneuritis occurred (three to four weeks). At this stage it was found that vitamin B1 cures the typical polyneuritis symptoms, but it does not restore weight or ameliorate all the symptoms, even when given in large excess dose daily, up to 12 pigeon doses per day. Instead the animal remains in weak condition with swollen red paws, spastic gait, loss of coordination, and other symptoms apparently due to the specific lack of vitamin B4.
"Now if a positive test dose of vitamin B4, proved free from vitamin B1, is given daily, the weight is immediately increased (20 g per week), and at the end of three weeks all the above symptoms have disappeared. If the substance contains no vitamin B4, then the animal gets generally weaker and usually dies within 10 days, without any further marked loss of weight."
—Vera Reader (Dept. of Biochemistry, Oxford, England), "The Assay of Vitamin B4" Biochemistry Journal 24(6): 1827–1831, 1930.
Decades earlier, in the early 1900s, U.S. Army physician Dr. Edward Bright Vedder successfully "cured" beriberi in infants and adults using rice bran extract, later discovered to contain the B4 anti-paralysis vitamin.
Also of note is Dr. Royal Lee's 1953 paper "A Few Comments on the Relation of Abnormal Heart Sounds to Malnutrition," in which he states:
"These phenomena are due to the loss of conductivity of the heart tissues for the impulses that otherwise maintain synchronism of the contractile rhythm of the heart muscle. Heart block first starts as a skipping and then finally becomes a 'pulsus alternans' situation: The heart muscle has become so insensitive that it responds only to a 'second call' from the control apparatus that normally regulates pulse rate.
"The cause is a deficiency of the cereal germ vitamins, B4 in particular. This fraction of the B complex is essential to normal function of motor nerves. It has also been called the 'anti-paralysis vitamin.' It is inseparable from natural thiamine, and it is never found in synthetic thiamine. It is, further, the physiological remedy for enlarged heart, for it is this factor in the B complex that maintains vascular and muscle tone.
"A continued deficiency of B4, of course, results in greater or lesser degrees of nerve and muscle degeneration, but all of the above effects of its deficiency usually respond quickly, in some degree, to its administration. An enlarged heart—with its distorted and leaking valves, as shown by murmurs—usually becomes almost normal within a few minutes after ingestion of the natural B complex carrying the wheat germ concentrate [the original Cataplex B, now sold by Standard Process as the new Cataplex B-Core] except for a prolonged first sound, the indication of tired muscle."
—Dr. Royal Lee, "A Few Comments on the Relation of Abnormal Heart Sounds to Malnutrition," Selene River Press Historical Archives
Furthermore, the new Cataplex B-Core has been proven effective both before and after Heart Sound Recorder graphs. I've observed improved tone of the first heart sound as well as the rhythm of the heartbeat.
You and your patients will be thrilled with the results of Cataplex B-Core, and the appropriate dosage is only 2–3 tablets per day.
Related Topics
Good to Know | holistic nutrition | whole food supplements