It's a Charlie Brown Christmas…I can almost hear those soft children's voices singing "Christmas time is near." This one song brings so many feelings of warmth and generosity, family and friends, delicious aromas and hopes for a brighter future. Don't you love these feelings too?
This is a perfect time to begin a wonderful new tradition. It starts with a loving thought, a twiggy bit of nothing, and, like magic, it turns into a fabulous gift.
For years, my major gifts were homemade sweet breads such as rich German stollen, (made with almond paste) and cranberry nut or rhubarb cherry bread, presented with a complimentary jam for easy morning holiday breakfasts.
This year it's different. Most foodie magazines suggest bringing an appetizer that can be served immediately, along with cocktails or wine—or even something the host can serve for their next cocktail party. You know this will save the day on many impromptu holiday occasions!
This gift idea starts with a low humble basket or board. The ingredients are the stars here: gourmet cheese with a spicy fruit spread and roasted fruit, chestnuts, or salted nuts and/or crudites.
It's positively easier than anything I've ever done before.
Holiday Gourmet Cheese Board
Chef's note: This gift may be presented ready to eat and should be served immediately. Last year, I roasted the grapes before adding them to the cheese board. That step is optional, but I have provided the recipe below.
Ingredients
2 cheeses (such as imported Brie, peppered-encrusted Gouda, Irish sharp cheddar, or the like)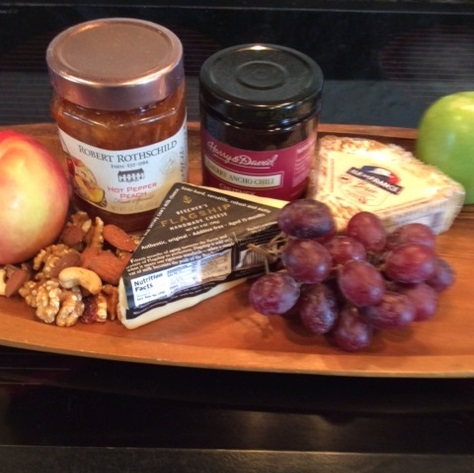 1 jar fig or mango jam, hot pepper jelly, or a spicy fruit chutney
3–4 cups assorted red or champagne grapes, as is or roasted (instructions below)
Dried figs (or other fruit) and assorted nuts in their shells
1 can prepared bread dough, pie crust, or crescent rolls (optional)
Instructions
Spread jam over each of the cheeses.
Bake in a 375°F oven just long enough to heat them (about 15 minutes).
If using bread or pastry, bake according to package instructions.
Arrange baked cheeses on the board. Next, place the grapes, figs or other fruit, and salted nuts around the cheeses. Add bread or pastry, if serving.
Serve immediately with decorative cheese knives.
Roasted Grapes (optional)
Ingredients
3–4 cups of red grapes, washed
Sea salt
1 tablespoon balsamic glaze
Instructions
Preheat oven to 400°
Place grapes on a rimmed baking sheet. Sprinkle with sea salt and drizzle with balsamic glaze.
Bake until grapes release their juices, about 25 minutes.
Place roasted grapes immediately around the cheese before serving.
Happy new tradition!

Images from iStock/Rawpixel (main). Post image from Phyllis Quinn.