I could have just as easily titled this blog post "Why No One Turns Down a Dinner Invitation in Italy." That's right—no matter the hour, no one in their right mind would turn down a dinner invitation in Italy. In fact, my son Billy tells me that it would an insult to do so.
During my recent trip to this beautiful country, we accepted just such an invitation. Should you ever be invited to a soiree by a stranger in a foreign land, I can only hope that your experience will be as magical as our near-midnight adventure—aboard a luxury yacht.
In our small villa near the sea, I would drink oodles of coffee early in the morning with Billy and his wife, and we'd all share a leisurely breakfast before venturing out for the day. Everyone seems to ride scooters in Italy, so it's noisy all day—but especially in the morning when the windows are still open to cool ocean breezes.
In September, the high tourist season is just phasing out, and we would happily dine at different places almost every day for lunch and dinner. It seemed to us that the restaurant owners were happy to accommodate the less frantic crowds of autumn, often talking with us and suggesting less popular wines that they would serve to us in large stone carafes at no or little charge.
But the big event of this vacation was surely the dinner invitation from a stranger. I can't be sure what prompted this gentleman to approach us, but perhaps it was our enthusiastic banter about the gelato we were relishing. At any rate, he walked over to our table, introduced himself as Storm, and asked if we would like to dine with him later that evening. Little did I know it would be on his super yacht.
Storm instructed us to meet at the pier an hour before midnight, and we set out a bit early to enjoy the walk and the nightlife of Imperia, the capital of the Liguria region. Imperia is a lovely town for shopping, with many charming stores and shops (including plenty of brand names to attract the tourist). Being curious sightseers, we checked out what the diners were enjoying all along the pier. (But at a polite distance so as to not offend. No one likes that!)
We also marveled at the yachts during our walk, noticing how the crew pampered these lovely ships by dutifully leaving their shoes unattended near the mooring lines before boarding. The crew also keep a close eye on tourists who unknowingly stray too close—as I did. I rested on a stump that was tied to one of the yachts, and after a few minutes a crew member approached to tell me that the mooring and ropes were maintained by the yacht owner. Turns out I was on private property!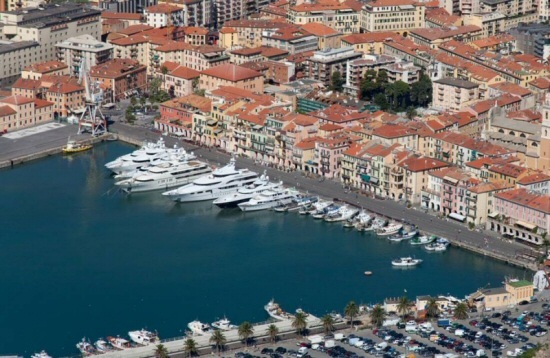 I quickly got up so we could resume our stroll. At the end of the pier is a covered structure where the fish mongers keep their scarred but clean stainless-steel tables ready to be iced for the morning catch. I thought to myself that the fish mongers are very trusting that no one would steal their tables. But this simple system obviously works, as it has for generations, and I confess that I was impressed.
During the high season (from early July to mid-September), tourists and native Italians alike crowd every place under the sun. So many colorful umbrellas are flung up that they almost touch ferrule to ferrule (tip to tip). Some sunbathers will seek out shaded, secretive enclaves, but every cabana, hotel room, restaurant, and restroom is still crowded. Too crowded. When it all changes in late September, sans tourists, Italy is glorious.
As planned, our host appeared on the pier at 11 o'clock p.m. He introduced his wife, Katia, as they escorted us aboard their yacht, and we learned that the fresh seafood to be served for dinner had been purchased by their chef that very morning.
Allow me to talk about this yacht. I admit that if I fell over backward into an "ordinary" yacht (if there is such a thing), I wouldn't know it. But I did know, without a doubt, that we were on "super" yacht. It was huge, polished and gleaming, and the wood sparkled. Not a barnacle in sight! The interior, decked out in French blue and white linens and Austrian lace, was as elegant as the outside. I thought I must have mistakenly walked into a dining room on the Titanic.
With the simple food, the wonderful wine, the beautiful ambiance, and the lovely view of the lights and the beach, conversation was easy. (I can tell you for sure that when you walk onto a super yacht, it's going to be an amazing party.)  The seafood, served with Sauce Garibaldi, was divine. I loved learning all about it from Storm and Katia. And now I can share it with you, so read on!
But first, let me share an important, well-kept secret about Italian cuisine. Unlike its French first cousin—haute cuisine—local peasant cooking in Italy often takes minutes rather than hours to prepare. This sauce is a perfect example, and so is the pesto that you'll need to prepare it (but you can also purchase a high-quality pesto at the store, if you wish).
I wrote about pesto—the regional, simple, six-ingredient sauce of Genoa—in a recent blog post ("Exceptional Pesto from Genoa"). But there are regional sauces in Italy that are even simpler, and this Sauce Garibaldi may be one of them. Along with pancetta, it calls for pesto (green), tomatoes (red), and cream (white), making it the "unification sauce" of Italy. It's named for Giuseppe Maria Garibaldi, republican general and nationalist who contributed to the Italian unification and the creation of the Kingdom of Italy. Whatever time of day you choose to make it, it's delicious and super easy. Enjoy, my friends.
Sauce Garibaldi (Red, White, and Green Sauce)
Chef's notes: Cheese is not traditionally served with this dish, but if you wish, you may place a bowl of grated Grana Padano or Pecorino cheese within reach. I suggest a wine that's regional to this area, such as Clastidio or Torre di Giano. So easy to find in Italy, but if you can't track it down, my choice would be a Riesling or pinot.
For a large crowd, try a combination of mussels, clams, shrimp, and calamari, but keep in mind that this easy, flexible sauce would be equally delicious on roasted vegetables or pasta as it is on seafood.
Ingredients
3–4 lbs. mussels or clams (closed), or shrimp (heads attached)
½ lb. pancetta, diced (a cured, unsmoked bacon-type meat)
2 (15-oz.) cans fire-roasted petite-diced Italian plum tomatoes, or cherry tomatoes
1 pint heavy cream
1 (10 oz.) jar Genovese pesto (or make your own)
Special equipment: large frying pan with lid
Instructions
Clean (and scrub if necessary) mussels or clams. If using shrimp, clean and devein. Set aside.
In a large frying pan, fry the diced pancetta until brown and crisp.
Add tomatoes and stir until coated with pancetta fat. Cook 5 minutes.
Add cream and pesto. Next, add the seafood. Shake well and cover until the mussels or clams open (if using shrimp, cook until opaque).
Spoon seafood into a large, heated bowl. Pour every bit of the sauce from the frying pan over the seafood. Serve immediately. (I also recommend a regional white wine and homemade bread.) The serving bowls should be wide, and small plates should be provided for the shells.
Image from iStock/LarisaBlinova (main), pier image (from Phyllis Quinn). 
Related Topics