The last recorded song by John Prine is a beautiful ballad called "I Remember Everything," and it says a lot to me. John Prine, a man of simple words but extreme talent, reached into the hearts of so many.
At the very least, I should say that I don't remember everything, but I do remember how some events from my past made me feel. For example, I recall how aware I was that the foods from my youth were entirely different from what my friends were eating. (One of these foods was beans and greens, or "minestra," but as I'm fond of saying, that is another post just waiting to be written.)
On more than one school lunch, my brown paper lunch bag would be soaked in oil, even though the sandwich within—sometimes onions and peppers (with or without sausage), sometimes fried flowers—was wrapped in wax paper. But when I took this same kind of sandwich to the beach—and in summer, we lived at the beach—it was so much better-tasting than what my friends had. They always wanted to exchange their plain sandwich for the surprise in my bag.
Back in the day, Poppa, my maternal grandfather, planted a backyard garden in New York City. In the spring his crops were radishes and green onions. In the summer he grew tomatoes, green beans, corn, and loads of squash. How I looked forward to tomato season! I ate more tomatoes right there in the garden than I ever brought to my momma's outdoor picnic table under the grapevines, which served as our "show what you picked" landing area.
Poppa always planted a lot of squash, both green and yellow zucchini, on a small hill so the vines could creep downwards. He brought in the squash flowers around midseason, which served two purposes. First, we would have a vegetable for the evening meal. And second, by removing the squash flowers, he cut down on the overabundance of squashes we'd have later. By late summer, we always had abundunza, with plenty to share. (If you've ever planted squash, you know they produce a boat load of squashes.)
Early in my life, Poppa taught me how to distinguish the female flowers from the male flowers, and I'll tell you now so you'll have a lesson to pass on. If the squash flower has a tiny squash attached to it, it is female. I was taught to leave the female alone as it will produce fruit later. If the squash is only a stem with a flower, it is male. This you should remove it as it will not produce fruit. It is also larger and therefore provides more area for delicious stuffing.
In Italian households back then, squash flowers were not just a specialty crop enjoying "a place in the sun," as some might think of them today. They just were. My mother stuffed them, fried them, or sauteed them as a vegetable. We ate them plain right out of the frying pan. We added them to a dandelion or tomato-cucumber salad. We used them as a topping for plain buttered pastina. We put them in our soup and added them to a cheese sandwich. Why? Because they are delicious.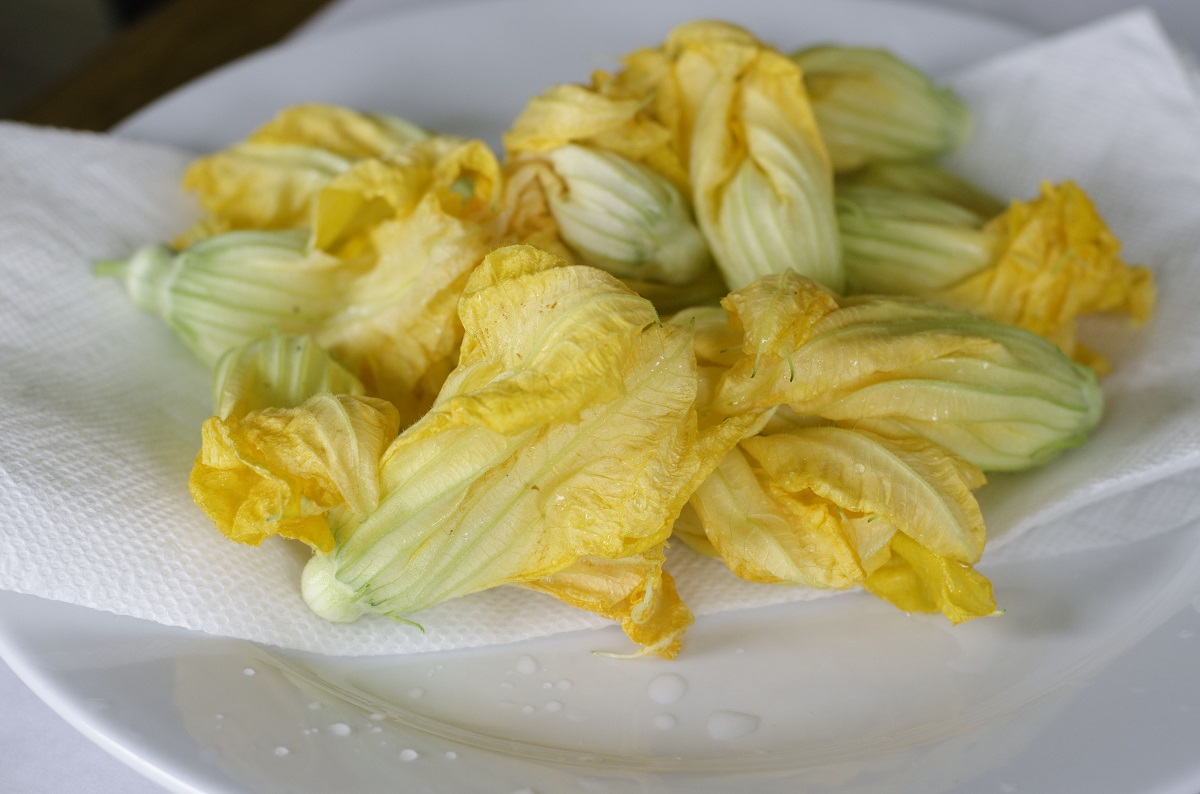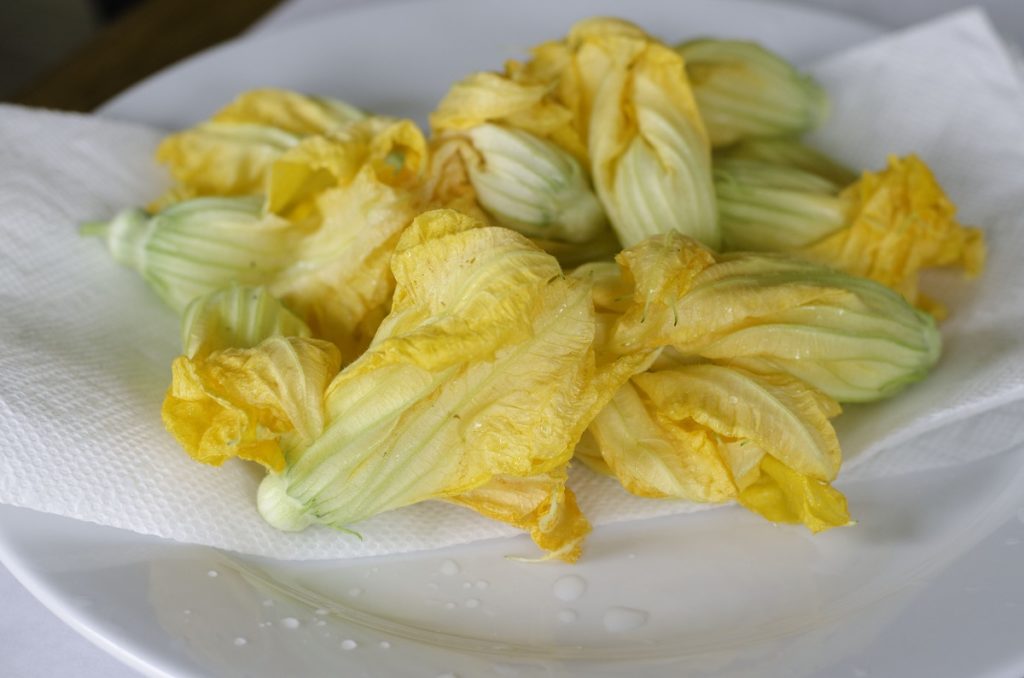 Stuffed and Fried Squash Flowers
Chef's note: Eating flowers is nothing new. Nasturtiums, pansies and squash flowers are all edible. As I'm fond of saying, everything old is surprisingly new again. Flowers are green early in the season, and turn bright yellow mid to late summer before becoming almost orange from the chill in the fall. If it is necessary to clean the flowers, be gentle. Just sprinkle water over them before drying on paper towels. Remove the stamens or inner stems with a small scissor, or break it free with your fingernail.
You may make this recipe gluten-free by substituting chickpea flour and rice flour. Indeed, both of these are in the limelight right now. I know for a fact that a specialty called socca, a thin chickpea crepe, is popular in Nice, France. In Imperia, Italy, just a stone's throw along the same Riviera coast, it's called la farinata. But whatever the region and whatever you call it, this is the same tasty street food, reminiscent of that folded slice of pizza I enjoyed back in my New York City days.
Ingredients
For the batter:
1 cup white whole wheat flour, sifted twice (gluten-free option: substitute ½ cup rice flour and ½ cup chickpea flour)
1 egg
½ teaspoon sea salt
½ teaspoon black pepper
½ teaspoon baking powder
½ cup club soda or beer (enough to make a thin batter)
½ teaspoon summer savory, optional
Pinch red pepper flakes
For the stuffed squash:
Squash flowers
Cheese filling of your choice (pimento cheese, goat cheese with herbs, or
ricotta cheese mixed with grated Parmesan are all good options)
Olive oil and butter, for cooking
Instructions
To prepare batter, mix all batter ingredients in a medium bowl. Set aside.
Stuff flowers with a small amount of filling of your choice. (I suggest 1 teaspoon for female flowers or 1 tablespoon for male flowers.) Close the top of the flower and twist.
Heat olive oil and butter in a pan set over medium heat.
Dip the flower into the batter. Let the excess batter drip back into the bowl. Fry immediately in oil-butter mixture.
Remove to a paper towel. Dust with sea salt.
Serve soon.

Images from iStock/Nikolay_Donetsk (main), SaltPhotographyCC (post).