The last time my hubby and I stopped by our local fresh fruit and veggie market, I was mesmerized by the beautiful rows of honey-filled glass jars. It was almost as if they were glowing, luring each shopper hither. Sirens of the condiment world, but without the danger.
I'd already confirmed that honey is a healthy sweetener as part of my self-health education, but now I found myself wanting to learn more about this seductive nectar. And I knew just where to look…the SRP Historical Archives.
The Historical Archives are jam-packed with information on this topic. "Honey in Nutrition," a 1955 article by William Miller on the benefits of raw honey, grabbed my attention immediately. Miller commends the humble honey bee for producing this irresistible food that's just as hardy as it is nourishing.
You see, raw honey refuses to go bad, meaning you can store it indefinitely. Its low water content and activity, along with its acidity, are factors that make honey impervious to spoilage. In order to grow, bacteria and fungi need a water content much higher than honey's 17 percent. With water activity of 0.6, mold and bacteria are kept at bay. And an average pH of 4, mainly due to the action of bee enzymes on some of the glucose molecules in the honey, makes for an undesirable environment for bacteria growth.
The acidity also gives honey its antibacterial qualities. Roman soldiers understood this all too well. They utilized their stores of honey to dress wounds and injuries, hindering any potential funk from creeping in and allowing the healing process to begin. As a matter of fact, the Romans, Egyptians, and Greeks held honey in such high regard that they bestowed it with the moniker "nectar of the gods." And of the sirens, by chance? 😉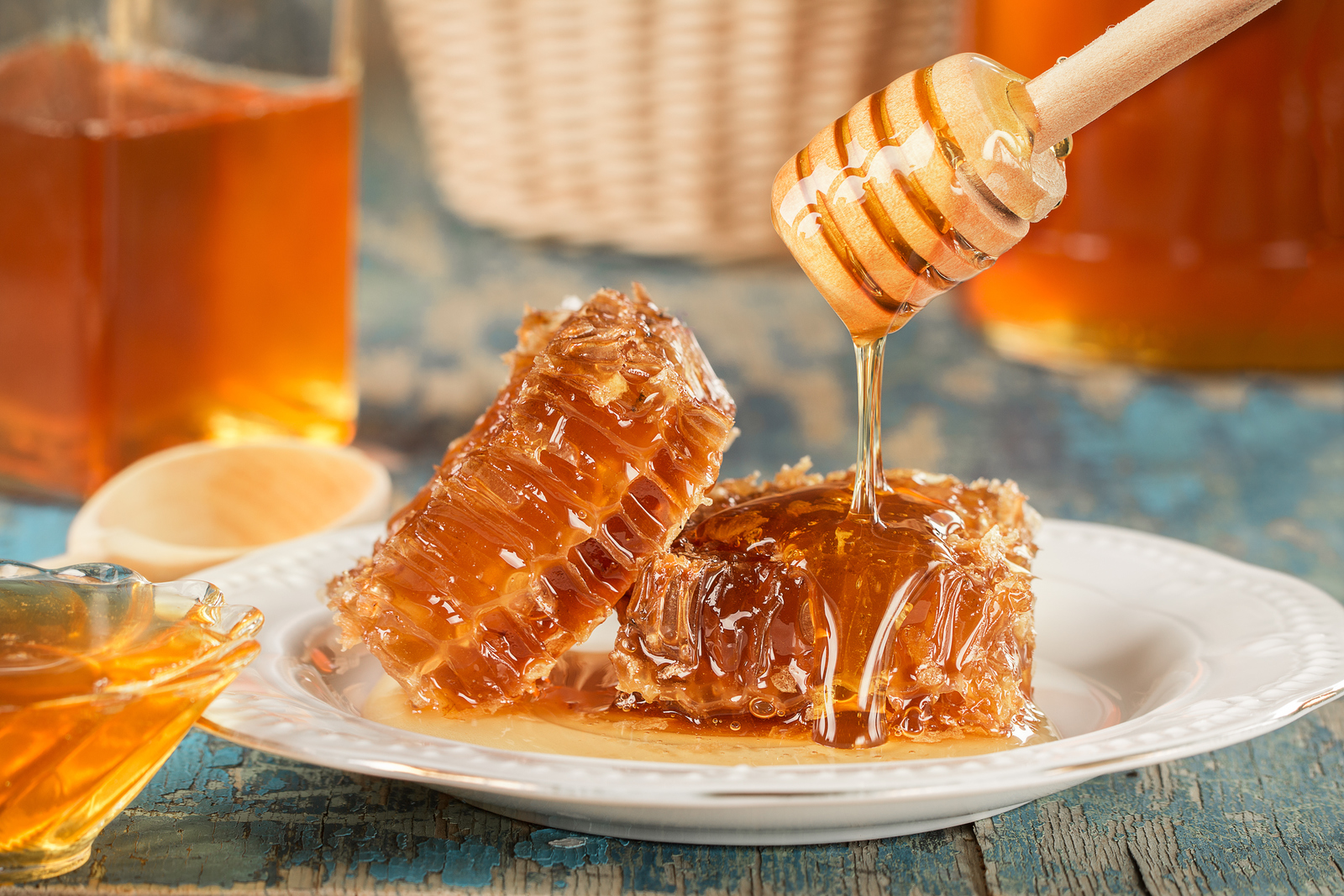 When deciding which jar to trek back to our house with, I'm always drawn to the murky variety. Honey purists believe this murkiness is proof that the nutrients are still intact. Miller explains that the two main sugars found in raw honey (levulose and dextrose) are abundant in the vitamin B complex. Vitamins K and F, and the Wulzen factor (the antiarthritic nutrient), all add to raw honey's bragging rights.
The nutritional profile doesn't stop there though. Raw honey also boasts an unexpected lineup of minerals, including calcium, copper, iron, magnesium, phosphorus, potassium, silica, and sodium. It's a real deal, nutrient dense whole food, my friends.
However, the nutritional profile of raw honey isn't as diverse by the end of the heating and filtering process that's used to clarify it, which makes it more visually appealing on your local market's shelves. That's why many traditional foodies, myself included, stick with the raw, unfiltered version. Miller cites a study from the University of Minnesota showing a decrease of vitamin content in clarified honey, offering yet another example of why eating foods as close to their natural state as possible is ideal.
The gorgeous hues and distinctive flavors in those honey jars are determined by which plants the bees visit as they gather nectar throughout the season. Clover, orange, and sage are just a few of the flavor varieties you may find.
If your honey has crystallized, resist the urge to get rid of it. Simply set the container in some warm water, and it will gently revert back to its liquid form. Your patience will be rewarded with good-as-new honey that you can easily pour, scoop, or spread.
When Don Studinski of Honeybee Keep is asked about crystallization, he says, "The conversation I always have with customers goes like this: raw honey always crystallizes. This is actually your 'warm fuzzy' that the honey truly is raw. That's the best for your body. It boosts your immune system. You can always get it to return to liquid by gently heating it. I recommend just hot tap water. I actually prefer it crystallized because it spreads more like peanut butter and isn't so drippy."
I'm always on the lookout for a healthier treat to make for our family and would love to find a traditional recipe for halvah. Miller describes halvah as a combination of raw honey and ground sesame seed paste, and he says that Roman soldiers often used it to sustain themselves. But in searching for a recipe, I found that many of them either used sugar or heated the honey to more than 200 degrees—neither of which would have been done in Roman times. If you happen to have a traditional recipe, I would love for you to share it with all of us in the comments below. Please and thank you.
To make sure this alluring elixir doesn't disappear, we must all play a role in keeping our honey bee population healthy. Organizations such as the Honey Bee Health Coalition exist to educate us on this topic. Planting bee-friendly foliage and carefully choosing what products you buy to keep pests away are just a couple of examples of how you can make a difference.
With every shade of gold on the spectrum, from bright and clear to dark and murky, the beauty of raw honey runs deep. Seek out your local beekeeper or look for raw local honey at LocalHarvest.org. Your taste buds and your health will be deliciously delighted.
Images from iStock/jaboticaba (main), mars58 (honeycomb). 
Related Topics
alternative health | holistic nutrition | raw honey