Water, water, water. We're all dehydrated and need more of it. That seems to be what I hear whenever I see one of our family's holistic practitioners. I walk out kicking myself for not keeping up with this simple, healthy habit and vow that it won't happen again.
The thing is, I feel like I'm constantly drinking water. I pay attention to the kind of water bottles our family uses, and I keep one next to me most of the time. How could I be dehydrated? How much water does a person really need?
Long gone are the days when eight 8-oz glasses were recommended for everyone, which I was glad to hear. After all, not many all-inclusive health statements truly fit the bill. The new standard for water consumption I've been hearing is to drink half of your body weight in ounces each day. A more individualized approach makes more sense. Yes?
Since I'm an avid water drinker who can meet the new standards with ease on most days—and yet I still hear that I should drink more—it got me wondering about my other tendencies. Clearly, I must be doing something that works against my daily water intake. What habits lead to dehydration? Time for some self-health educating.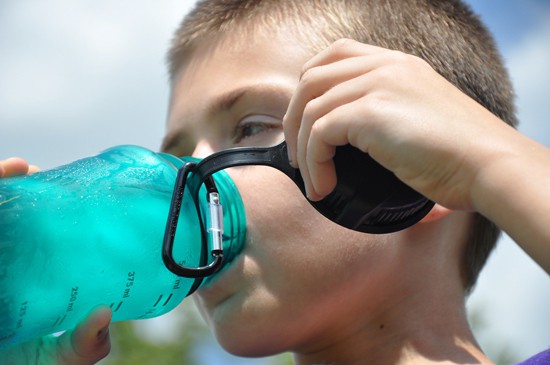 It's obvious that when you sweat more, your body loses more fluids. So it makes sense that you'd want to up your water intake during these steamy days of summer, especially if you're also keeping up with a regular exercise routine. Exactly how much more water you need would depend on your workout and how much time you spend out in the heat.
The food and drink choices you make throughout the day can also affect your hydration level. Anything that sends you to the restroom more often, whether it makes you urinate frequently or causes diarrhea, is no friend to your hydration levels. Caffeinated beverages and alcohol make this list. Consuming salty and sugary foods will require more water intake as well.
Your body does need salt, but too much of it—especially the wrong kind of salt—can cause problems, including dehydration. We've also talked about the detriments of sugar a time or two here at SRP. And, of course, it's important to avoid any foods that don't seem to agree with you or that cause frequent, loose, watery stools, which are dehydrating.
There are even a few surprising causes of dehydration, including stress, PMS, prescription medications, and simply getting older. I hadn't realized that our bodies conserve less water as we age.
Dehydration does not do the body good and should be avoided at any cost. The amount of water you really need each day is highly specific to you and your lifestyle. Isn't your health worth taking the time to figure it out?