There's no doubt that we're all somewhat familiar with buckwheat, and many relish one particular aspect about it: yes, buckwheat is gluten-free! I frequently talk with people who tell me they can't eat grains because they're now "gluten-free." They've become part of what I now playfully call the gluten-free craze, and I often refer them to my article "To Gluten or Not to Gluten."
Thankfully, for many of us this isn't an issue. We can use buckwheat as well as organic whole wheat and heritage grains such as einkorn, emmer, and, of course, organic spelt. In addition to being gluten-free, buckwheat and buckwheat leaf may have profound health effects. This is the primary reason I chose to write this blog post. Before getting down to brass tacks on buckwheat's medicinal virtues, I'd like to share some interesting facts on the origins of buckwheat as well as buckwheat resources and a few fun recipes.
What prompted me to write this blog post was an article titled "The Benefits of Buckwheat," published in the summer 2017 edition of the Herb Quarterly. Author Joyce White, a retired mental health counselor now living in western Maine, expounds on the medicinal virtues inherent in buckwheat, including the benefits of rutin (but more about that later).
Right now I'd like to introduce you to a portion of this very interesting article. If you can find a copy at a local bookstore, I encourage you to get one for you own files.
 The Origins of Buckwheat
"Historically, buckwheat began as a wild plant, domesticated and first cultivated in inland Southeast Asia, possibly around 6,000 BCE. It spread across Asia—the Yunnan Province of China cultivated it on high ground at the edge of the Tibetan Plateau—and the Middle East. Its growth was documented in Finland in 5,300 BCE as an agricultural crop, and it was one of the earliest crops brought by Europeans to North America.
"Buckwheat was a common crop in the northeastern United States during the 18th and 19th centuries, but it declined sharply in the 20th century due to the use of commercial nitrogen fertilizer. Buckwheat farmers eventually learned it doesn't tolerate high-fertility soils, so wheat and oats displaced it. Records show more than one million acres of buckwheat harvested in 1918, down to 50,000 acres in 1964, the last year of record keeping. An interest in 'ancient grains' reported in 2009–2014 has led to a resurgence of this plant."
—"The Benefits of Buckwheat" (Herb Quarterly, Summer 2017)
Bouchard Family Farms Produces High-Rutin Buckwheat Flour
One particular buckwheat farm that comes with high praise in White's article is Bouchard Family Farms. Speaking to Janice Bouchard was a very pleasant experience (and I'll soon be using their buckwheat flour). Bouchard stated that although their products aren't USDA certified organic, they are gluten-free and kosher certified, and they use no pesticides on the plants.
This is the sixth generation of the family to run Bouchard Family Farms. They grow 300 acres of Tartary buckwheat, a light buckwheat flour they use in a variety of ployes mixes (ployes are French Acadian flatbread/pancakes). Tartary buckwheat is particularly rich in rutin (which I'll address later).
Nutritional Benefits of Tartary Buckwheat
"If you're looking to increase your dietary intake of rutin, look for Tartary buckwheat when you go shopping…A study published in the Journal of Agricultural and Food Chemistry found that Tartary buckwheat seeds contained much more rutin (about 0.8-1.7% of dry weight) than common buckwheat seeds (0.01% of dry weight). Furthermore, Tartary buckwheat was found to contain some quercetin, yet another important flavonoid, while common buckwheat contained no quercetin."
—"Health Benefits of Tartary Buckwheat Tea (Soba-Cha)" (HealWithFood.com)
About the Maine Crisp Company
In White's Herb Quarterly article, I also read the story of Karen Getz, creator of amazing buckwheat crackers that Joyce White raves about. Karen owns the Maine Crisp Company. She and her husband have worked with the Bouchards, and when Karen started using buckwheat from the Bouchard Family Farms, it resulted in her now famous buckwheat crackers being stocked in many stores. The crackers are naturally gluten-free. The ingredients include buckwheat flour, a variety of organic seeds, nuts, Maine sea salt, organic rosemary, and organic sugar. They come with either dried organic Maine blueberries or cranberries.
Now let's talk about rutin. Read on for more quotes taken from Joyce White's article, "The Benefits of Rutin," published by The Herb Quarterly. (All emphasis mine.)
Rutin: The Super Food Ingredient in Buckwheat
"Blood Flow: To start with, buckwheat is high in rutin, a glycoside (found also in citrus fruit) that reduces capillary fragility and could help prevent blood clots with its action keeping capillary walls from leaking. In European tradition, it has been used to treat venous and capillary problems because it tones the veins and helps prevent hardening of the arteries. Result of controlled study indicated that it reduced edema (water retention), improved blood flow through the femoral veins, and enhanced capillary resistance."

Of particular interest was this paragraph:
"Buckwheat groats (the hulled seeds) are extremely beneficial when sprouted, since the sprouting process releases and intensifies its many beneficial compounds for better absorption by the body. According to holistic practitioner Sheryl Walters, sprouted buckwheat groats create an alkaline environment in the body, helping to prevent or reduce inflammation, the root cause of many chronic ailments."
Nutritional Comment from Sally Fallon Morrell
"Buckwheat is not technically a grain but the seeds of an herb, a relative of rhubarb. The seeds, or groats, form a dietary staple in northern climates, especially in Siberian Russia and in Brittany. Buckwheat is an important component of Jewish cuisine. It is high in lysine and calcium as well as vitamin E and the entire gamut of vitamin B complex. It is especially noted for its high nitriloside or B17 content, a vitamin that plays an important role in the body's defense against cancer."
—Nourishing Traditions, p. 464
(Personal note: Nitriloside is B17.)
"Also known as amygdaline, B17 is a glycoside, meaning it bonds to other nutrients through sugar. Glycosides are often used in medications, and B17 is no exception. The extracted version of B17 is called laetrile, a substance used to help cancer patients fight diseased cells."
—"Vitamin B17 Benefits" (LiveStrong.com)
Buckwheat Sources in the Weston A. Price Foundation Shopping Guide
The companies listed below are just a few of the many that carry whole hulled buckwheat groats that you can grind into flour or use to make cereals and other buckwheat dishes. There are also many other vendors that carry buckwheat flour:
 The Weston A. Price Foundation Shopping Guide is available in a handy print edition, or you can get the downloadable Find Real Food app.
 One of the Most Concentrated Forms of Rutin
You might have guessed that holistic practitioners are trained in using the most natural, concentrated food-grade supplements available, such as Cyruta Plus from Standard Process. Made from the green buckwheat plant, Cyruta Plus is a high-rutin food-grade supplement indicated for the following uses:
Supports capillary integrity and function
Supports circulatory cholesterol transport
Supports healthy cellular glucose handling to help maintain blood sugar levels already within normal range
Supports healthy peripheral circulation
Contains several independent factors that help to maintain the integrity of capillary walls
More About Rutin
"Rutin proved to be the most potently anti-thrombotic compound that we ever tested in this model,' says Flaumenhaft. Of particular note, rutin was shown to inhibit both platelet accumulation and fibrin generation during thrombus formation. 'Clots occur in both arteries and in veins,' explains Flaumenhaft. 'Clots in arteries are platelet-rich, while those in veins are fibrin-rich. This discovery suggests that a single agent can treat and prevent both types of clots.'"
—"Flavonoid Compound Can Prevent Blood Clots," Harvard Gazette, May 9, 2012
Now How About Some Yummy Buckwheat Recipes
Buckwheat Buttermilk Pancakes
—Adapted from Bouchard Family Farms. Please note that this is not a gluten-free recipe. Also, as explained on p. 478 of Nourishing Traditions, the flours need to be soaked in the buttermilk 12–24 hours, so plan accordingly.
Ingredients
½ cup light buckwheat flour (I recommend Acadian Light Buckwheat Flour from Bouchard Family Farms)
½ cup organic whole grain flour (I recommend spelt)
1 cup full-fat organic buttermilk
1 pastured organic egg
2 tablespoons coconut oil, lard, or tallow, softened
1 teaspoon baking powder
½ teaspoon baking soda
½ teaspoon sea salt
Instructions
Combine flours and buttermilk. Soak 12–24 hours.Beat egg. Stir into buttermilk mixture. Add remaining ingredients in order listed and beat with rotary beater until smooth.
Grease preheated griddle (if necessary). Pour large spoonful of batter onto hot griddle. Flip pancakes when puffed and full of bubbles, but before bubbles break. Cook other side until golden brown. Continue with rest of batter.
Serve hot and enjoy.
Simple Buckwheat Porridge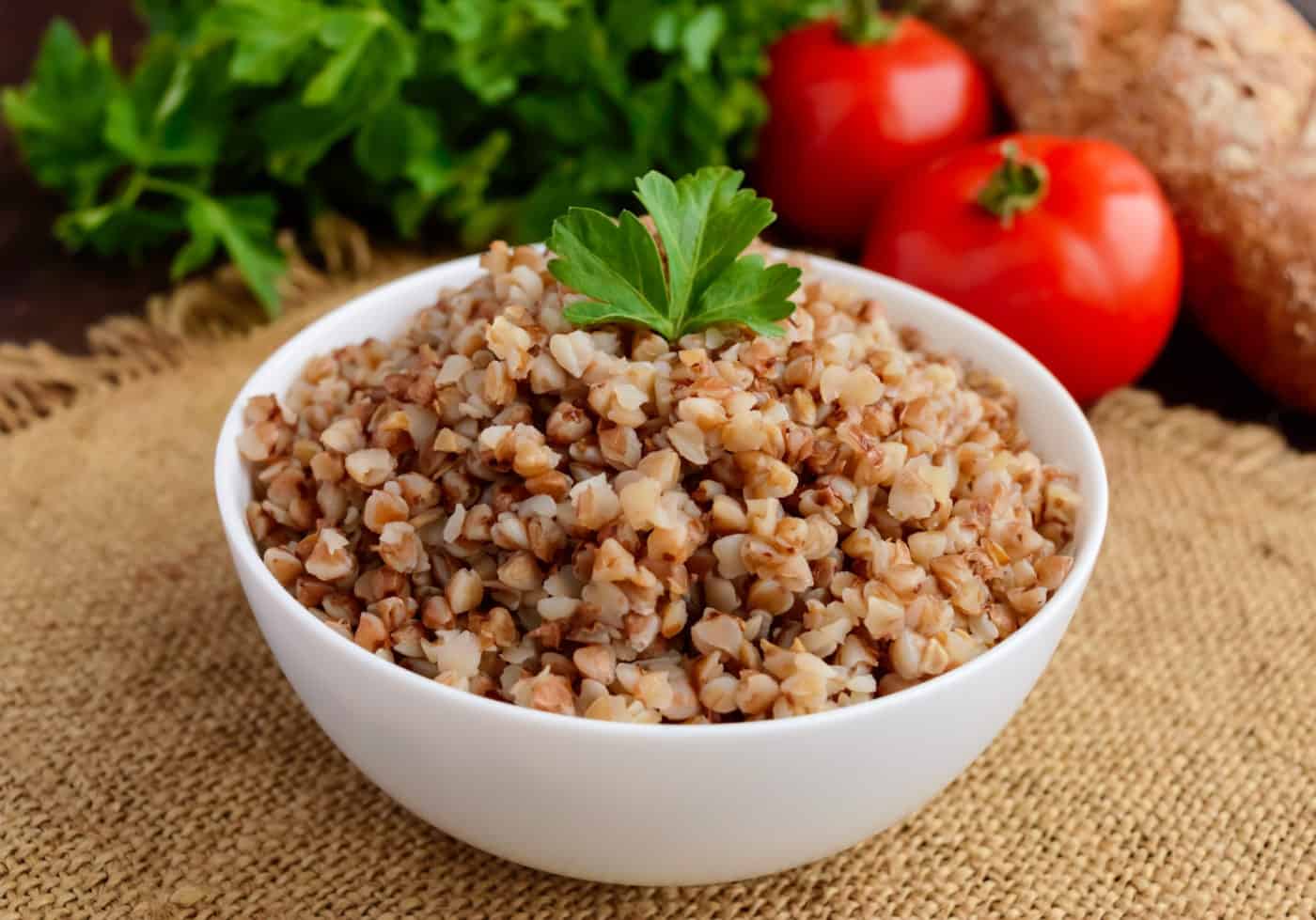 —Adapted from Babble.com. Personal note: As explained on p. 465 of Nourishing Traditions, the groats should be soaked in water with approx 2 tablespoons of whey, yogurt, buttermilk, kefir, raw apple cider vinegar, or lemon juice for at least 7 hours.
Ingredients
1 cup organic buckwheat groats
2 tablespoons whey, yogurt, buttermilk, kefir, raw apple cider vinegar, or lemon juice
2 cups water
½ teaspoon sea salt
½ teaspoon Ceylon cinnamon
2 tablespoons organic maple syrup
1 teaspoon organic vanilla extract
¼ cup whole raw milk
Optional toppings:
Spoonful butter
Golden mulberries, raisins, or chopped dates
Handful flax seeds
2 tablespoon chia seeds
Spoonful organic almond butter
Sliced organic banana
Raw crispy pistachios
Sliced organic peaches, frozen or fresh, or other fruits and/or nuts or your choice
Instructions
Soak groats in 2 tablespoons whey, yogurt, buttermilk, kefir, raw apple cider vinegar, or lemon juice for 7 hours.
Place water and soaked groats in a soup pot.
Add salt, cinnamon, maple syrup, and vanilla. Bring to a boil, cover, and reduce to a simmer.
Simmer 10 minutes, then check the texture of the groats. They should be squishy but not mushy or too watery.
When the groats are tender state and all the water is absorbed, add milk and any optional toppings you want to melt into the porridge (butter, chia seeds, flax seeds, dried fruit, or the like).
Continue to simmer, uncovered, until nice and thick. Turn off heat. Allow groats to cool and thicken about 10 minutes before serving.
Serve with fresh or thawed fruit, another splash of milk, optional spices, nuts, and/or whatever optional toppings you desire.
Note from Maria: I am a Certified Natural Health Professional, CNHP, not a medical doctor. I do not diagnose, prescribe for, treat, or claim to prevent, mitigate, or cure any human diseases. Please see your medical doctor prior to following any recommendations I make in my blogs or on my website.
Images from iStock/margouillatphotos (main photo), igaguri_1 (buckwheat plant field), wawritto (sprouted buckwheat), Iaroshenko (buckwheat porridge). 
Related Topics
healthy recipes | heart health