I don't know about you, but since I'm sort of a recluse I often tend to cogitate (to ponder on any one thing intently). This happened to me recently while I was quietly enjoying my lunch with some soft classical music in the background. Do you ever do that? Probably not many of us get into such deep-thought states in light of our ever busier days, nights, and even weekends. Nevertheless, try it sometime, just for kicks, and see what interesting subjects your mind will bring your way.
In any case, I realized as I sat there with spoon in hand—savoring a freshly made small portion of what I call my foundational bone broth soup—that my air conditioner was on full blast, and the temperature outside was up in the 90s, while I sat there contently eating a small bowl of hot soup! Insanity is what most people would call it, but I thought: Why not? After all, didn't most traditional cultures eat soup prior to every meal? Before long I finished my soup and went on to eat my main salad and salmon meal. However, no sooner had I finished than I was off to do some research and find out why it's wise to eat soup in the summer. Yes, that's what I said—soup even in the heat of summer (smile).
Cultural Examples of Soups Before or After Meals
China: "A typical Chinese meal consists of rice, one to four meat or fish main courses, two vegetable dishes and one soup. The courses are often eaten one at a time. Soup is usually served after the main course instead of before it. Sometimes drinks aren't served. Soup is used to wash down a meal instead of drinks. The Chinese are not big on desserts. Meals are often capped off with fruit not cake, pies or ice cream."
—"Eating and Drinking Customs in China"
Spain: "Spaniards eat their lunch, or comida, between 2:00 and 4:00 in the afternoon. Serving as the day's main meal, it is traditionally quite a bit larger than the dinner meal, or cena. A typical lunch will have several courses. The first course is the lighter part of the meal, usually consisting of a salad or soup, while the second course is normally your typical fish or meat dish. A dessert can be a simple piece of fruit, a typical Spanish flan, or a sweet pastry or cake."
—"Spanish Eating Customs: Meals"
Russia: "A classic Russian lunch includes hot soup as the first course (пе́рвое блю́до or simply пе́рвое) and meat with potatoes, porridge or pasta as the second course (второ́е). This is then followed by the third course (тре́тье), which is usually a drink such as kompot (a non-alcoholic drink made by boiling fruit in water), tea, coffee or juice with an optional cake or chocolates."
—"Meals of the Day in Russia"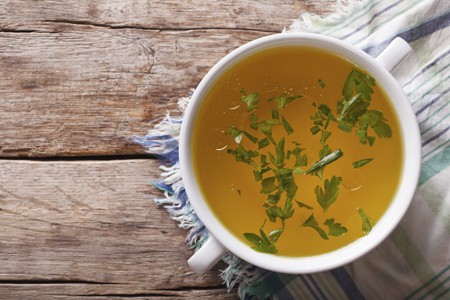 These examples make me think that serving soup before or after meals was and still is a traditional, healthy part of most cultures. But I was born and reared in America, a culture where soups and stews are more often thought of as a meal in and of themselves. Well, so much for belonging to a culture where serving soup as a course with most meals is a natural practice.
How then did I come to enjoy at least one pint of soup, if not more—either in a bowl or served as a beverage—with lunch and dinner on a daily basis? And, YES, in every season of the year, winter, spring, summer, and fall! Well, immediately I was quick to think of what I learned about soup after reading Nourishing Traditions and Nourishing Broth by Sally Fallon Morell and also Cooking Techniques for the Gut and Psychology Syndrome Diet, Part I: Meat Stock and Bone Broth by Monica Corrado.
You see, I'm not just eating soup. Thanks to the benefits of bone broth, I'm eating hydrophilic colloid, a substance that attracts and holds liquids, including digestive juices, thereby supporting proper digestion; chondroitin sulphates, glucosamine, and other compounds extracted from the boiled down cartilage, which helps reduce pain and inflammation; calcium and magnesium (as bone broth contains high amounts of both these super minerals); and other nutrients that play an important role in healthy bone formation. So you see, I'm having my medicine in the form of a new wonderful tradition regardless of my heritage! Won't you join me?
Some Important Changes to Ponder
If at first you don't succeed, try, try again. Moving beyond your average quick and easy meal takes a bit of time and also the willingness to build new traditions. This includes a nutrient dense serving of soup at least twice a day. Here are some suggestions that will make it easier for you to get started:
Read Nourishing Traditions and Nourishing Broth with gusto. Take notes and join your local Weston A. Price chapter for ideas and encouragement.
Start your journey by going to your local health food store. Ask if they sell chicken feet, pig feet, oxtails, marrow bones, and other types of animal parts you'll need to make your own bone broth. (Your local Weston A. Price chapter will usually have handy references for local ingredients.)
Buy a nice slow cooker. I personally use a Hamilton Beach and have both the large and small size to accommodate large and small batches.
Go back and read some of my Tips from the Traditional Cook select blog posts for more great information (and recipes) detailing the importance of bone broth.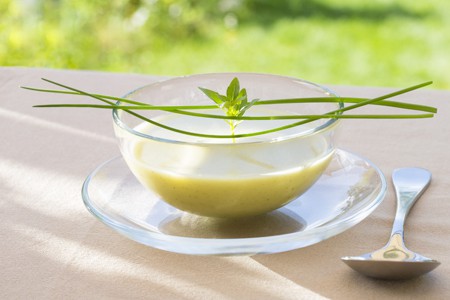 Not all soups or bone broth beverages need to be hearty and heavy. This concept was a big stumbling block for me when I first got started. I'm not a big eater, and at first I was full before the main meal was even served! I slowly realized that what I was really after was a light but nutrient dense soup or beverage meant specifically to provide just the nutrients I was after. It wasn't supposed to be a meal!
In due time I developed soups and bone broth beverages that met my criteria for light, less filling soups and beverages that would still give me the hydrophilic colloid, chondroitin sulphates, and glucosamine, as well as calcium and magnesium, that bone broth contains. I call that a win-win, and I'd like to share a few of my favorite recipes so you won't need to reinvent the wheel (smile).
Making and Storing Your Foundational Bone Broth
Forage locally for the ingredients you'll need, and you'll soon be on your way to making your own nutrient dense foundational bone broths. I can find most of my bones and marrow at my local Whole Foods Market or Natural Grocers, or at my two favorite online sources that provide shipping: Lasater Grasslands Beef or Ranch Foods Direct. No doubt there are closer ones in your area.
I use only the bones and a splash of apple cider vinegar to make what I call my "foundational" bone broth. I add a few veggies later when I make my light and lovely daily soup or beverage. My favorite gelatin rich foundational broth is made with pig and chicken feet, plus chicken or turkey bones. Don't hesitate to follow any of the bone broth recipes in Nourishing Broth. Each has its own texture and nutrient base.
After I make my broth, I simply cool it a bit and put it in the refrigerator overnight. I then freeze them in half-pint BPA-free plastic screw top containers. I take one out to thaw almost daily for the next day's portion. With it, I create numerous types of what I call my "light and lovely" soups and bone broth beverages.
Light and Lovely Foundational Bone Broth Recipes
All of the following broths yield a small serving, but feel free to double or triple the recipe to make larger portions. You may make each broth the day before for your next day's ration. To make it into a beverage, simply blend it in your Vitamix or blender. Add salt, pepper, and spices to taste before serving.
Mushroom, Onion, and Garlic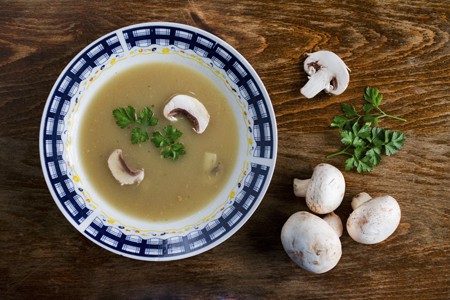 Ingredients
Shitake mushrooms, or a mix of mushrooms, chopped
1 small white onion, diced
2–3 garlic cloves, minced
Foundational bone broth to just barely cover vegetables.
Instructions
Place mushrooms, onion, and garlic in a slow cooker.
Add foundational bone broth to barely cover the vegetables.
Simmer on low for 6–8 hours.
Carrot and Cabbage
Ingredients
¼ of a small cabbage, shredded
1 small carrot, shredded or diced
1 small white onion, diced
1 very small red potato, diced
Foundational bone broth to just barely cover vegetables
Instructions
Place cabbage, onions, and potatoes in slow cooker.
Add foundational bone broth to barely cover the vegetables.
Simmer on low for 6–8 hours.
Tomato, Celery, and Horseradish 
Ingredients
1 cup tomato sauce or 2–3 tomatoes, blended
2 celery sticks, diced very small and thin
1 small white onion, diced
½ teaspoon fresh or organic bottled horseradish
Foundational bone broth to just barely cover vegetables
Instructions
Place tomato sauce or blended tomatoes, celery, and onion in slow cooker.
Add foundational bone broth to barely cover the vegetables.
Simmer on low for about 6–8 hours.
Add horseradish right before serving. (Note: The horseradish can be overpowering if cooked with the other ingredients.)
As you can see, the idea here is to always use some veggies to make these special light and lovely soups and beverages. Don't be tempted to drink down the foundational bone broth by itself. Read this great article by Kaayla Daniel to learn all the special do's and don'ts about bone broth. 
---
AUTHOR'S NOTE
To choose your organically grown and fresh ingredients wisely, use the following criteria:
chemical- and hormone-free meat
wild-caught fish
pasture-raised, organic eggs
whole, unrefined grains
virgin, unrefined, first-press organic oils
whole-food, unrefined sweeteners
pure, clean, spring water
sea salt
raw and/or cultured milk and cream products
Photos from iStock/AndreyPopov (at top); ALLEKO (meat broth with parsley); LDProd (green gazpacho with basil and chives); StefanJovanovic1997 (mushroom soup)

Note from Maria: I am a Certified Natural Health Professional, CNHP, not a medical doctor. I do not diagnose, prescribe for, treat, or claim to prevent, mitigate, or cure any human diseases. Please see your medical doctor prior to following any recommendations I make in my blogs or on my website.