Ask Chef Phyllis
A friend and I were talking about this the other day. My oh my—we had the same recipe for a church function, and we both followed it precisely. But mine was a disaster while hers was so good. I don't enjoy cooking, and perhaps I fail at it because for me it's a chore and not a pleasure. My food is ordinary at best. Can you shed some light on this? Am I wrong in my belief that if you like doing something it will turn out better?
—Cecilia Townsend, Verdigris, Oklahoma
To become a good cook requires more than blindly following a recipe. It takes heart and soul—with a little ingenuity thrown in. I've received more than one letter asking about this very subject.
How can it be that two cooks using the same recipe can obtain widely different results? This happens more often than you think! I saw it firsthand in one of my cheese-making classes. Although one of my students visually watched me display the technique half an hour before, she was convinced that her cheese wouldn't come together. Her lack of confidence indeed made it so (although this isn't the norm). I restored her confidence, talked her through it, and she successfully made perfect cheese.
People who desire to become good cooks must first believe they can do it. How often have you heard cooks say, I had good luck with my cake today or I had bad luck with my bread yesterday? Happily, luck has nothing to do with the success or failure of a dish. But luck does favor the prepared! Good cooks are more than prepared—they are consistent.
To become a good cook, Cecilia, means to gain a knowledge of foods and how they behave and, to some degree, developing the skill of manipulating them. The recipe by itself, as helpful as it is, will not produce a good dish. The human handling the food must interpret it and must have skill. Practice helps too.
My friend Bina Mehta, who is a phenomenal cook, has noted this strange dilemma too. We both think it's a fairly common occurrence with cooks everywhere.
I write recipes over and over again, as does Bina. We kitchen test them over and over again, which is a much more difficult task that most people understand. A recipe must be—and should be—written so the least-talented cook can achieve some degree of satisfaction, albeit that isn't always the case, as you noted in your question.
One of the issues I address in my cooking classes is that practice makes perfect. Master one recipe until it becomes your signature dish—your masterpiece. Try these peppers for a start. And next time, after you master this dish, you can perhaps move on to the perfect spaghetti sauce. (But that's the subject of yet another post, as I'm fond of saying.)
Below is a recipe for Provencal-Style Stuffed Peppers, which has been handed down in my family for decades. I've made it hundreds of times in my more than five decades of cooking. It's a showstopper—easy to prepare and fun to talk about as many countries seem to claim its origin. But for me, the simplicity of this dish makes it even better.
Provencal-Style Stuffed Peppers: A Tried-and-True "No Fail" Meal
Chef's tip: Preparing the peppers and meat mixture takes about 10 minutes, and the initial hands-on cooking about 5 minutes. The oven does the rest of the work for you. No stirring, no watching the pot. I can promise you everyone will ask for the recipe. Just tell them it's a masterpiece made easy!
Ingredients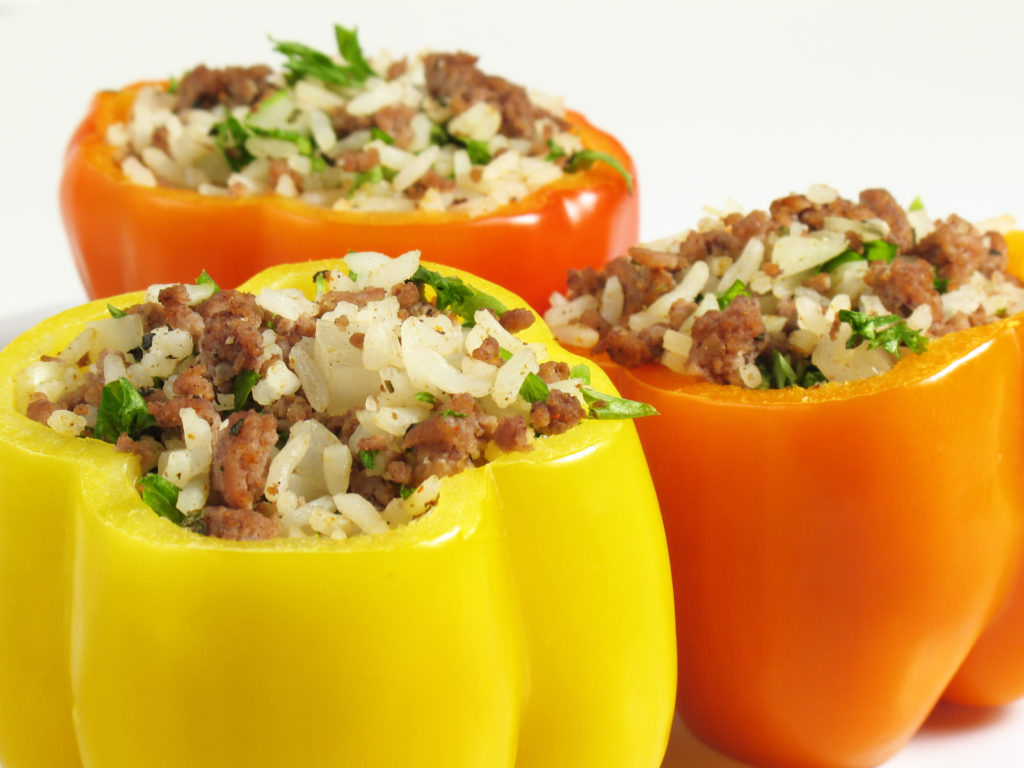 5 large bell peppers (I use red, but other colors work as well)
1 lb. 85/15 grass-fed ground beef
½ lb. bulk hot Italian sausage with fennel
1 medium onion, diced
½ cup long grain or basmati rice
2 teaspoons sea salt
1 teaspoon freshly ground black pepper
1 teaspoon dried thyme
½ teaspoon each oregano and summer savory
3 tablespoons olive oil
3 tablespoons butter
2 large carrots, peeled and cut into circles
2 large potatoes, peeled and cut into ¾-inch cubes
2 (14 oz.) cans fire-roasted diced tomatoes
1½ cups homemade tomato sauce
Special equipment: a large Dutch oven
Instructions
Prepare the bell peppers by slicing off the tops and deseeding them. Wash and dry peppers, then set aside.
Preheat oven to 350°F. In a large bowl, mix ground beef, sausage, diced onion, rice, salt and pepper, thyme, oregano, and summer savory.
Loosely stuff each pepper with the mixture.
Heat olive oil and butter in the Dutch oven over medium heat. Add carrots and potatoes and sauté for about 4 minutes, or until slightly tender.
Add peppers to the Dutch oven, moving the carrots and potatoes around so the peppers touch the bottom.
Pour canned tomatoes and tomato sauce over peppers
Cover and place Dutch oven on center rack of the oven.
Cook 1–1½ hours. Turn the oven off. Remove lid and let it rest before serving.
Taste the sauce and correct the seasonings with more sea salt and black pepper if necessary. Serve with crusty bread and a green salad for a delightful meal.

Image from iStock/LightFieldStudios (main), DreamBigPhotos (peppers).
Related Topics