It's winter up in the Rocky Mountain highlands where I make my home. And those in the know, know that I fractured my ankle over Thanksgiving on a hike I'd completed—totally unscathed—many times.
Even though I had to wear a boot for about six weeks after the injury, I took the opportunity to recover on the beach and visit with an old friend who had recently become a widower. His generous offer to host me was so irresistible that I decided braving the airport, and then getting on an airplane, would be worth it.
Now I'm back from that lovely interlude. For three wonderful weeks, I bathed in ocean breezes and warm surf at the delightful South Padre Island. This all took place over the magical time around Christmas and New Year's, when most folks are indulging in traditional and often rich food.
Now let me share my surprise. My friend and I planned a splendid, traditional menu for the soiree at his home. The star of our Christmas day meal should have been the glorious English standing rib roast, but when three guests went back for seconds of a side dish, it sent up a red flag for a foodie like me. Let's just say that my interest was piqued.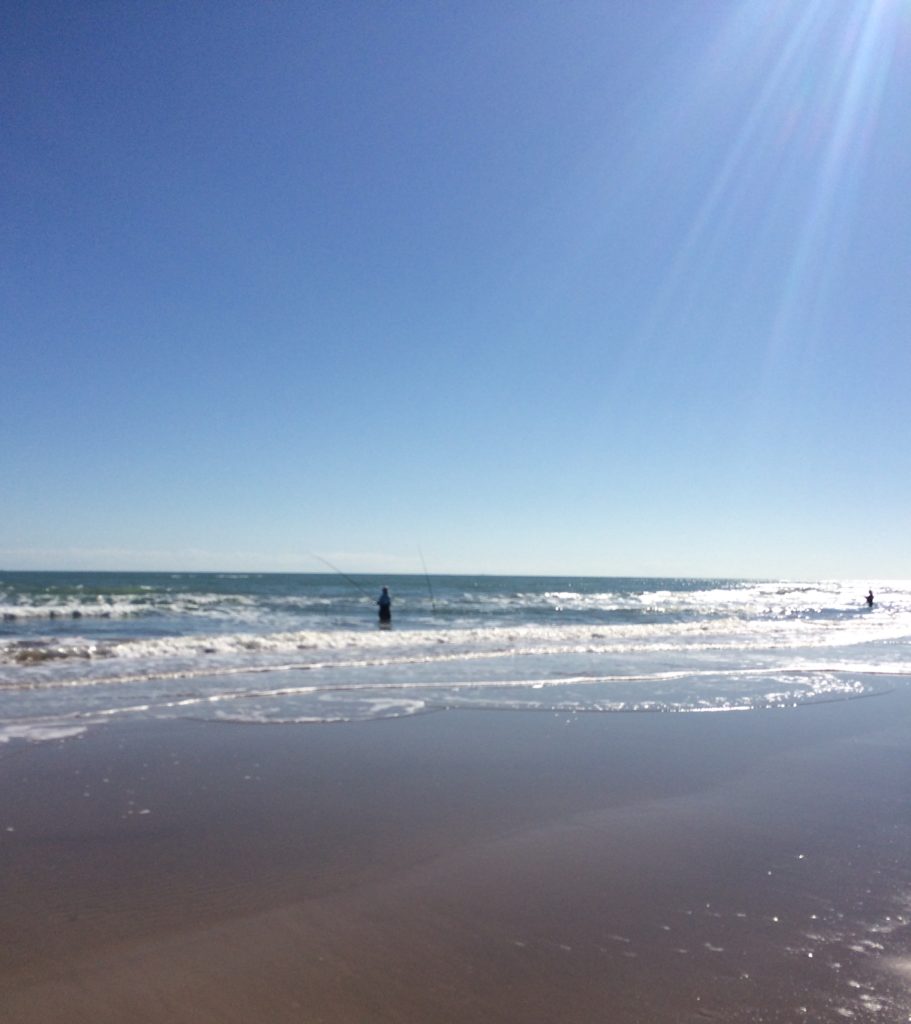 I didn't know it, but in Texas sweet corn is available year-round. One evening my host prepared some fresh corn to go with our BBQ brisket (a staple in Texas). The corn was exceptional, young and tender with white and yellow kernels. (For some reason, my mother used to call this "gentleman corn." Maybe so.) This corn didn't need to be cooked for more than two or three minutes, reminding me of my Poppa's corn back when I was a child in the Bronx. But as I'm fond of saying, that is the makings of yet another post.
My first thought upon tasting the corn was Eureka! It's so incredibly sweet that you can eat it raw if you wanted. My second thought was that I would definitely be making a sweet Texas corn casserole to serve on Thanksgiving. I wanted it to be rich but not compete with the prime rib and Yorkshire pudding. It also had to be different—creamy and with a bit of a south Texas twist. Read on for my creation.
Corn Casserole
Chef's note: I've learned a few tricks over my 45-year career in food service (lovingly called the "hospitality" industry these days). One of my tricks is to enhance the flavor of bland vegetables by roasting them, and it worked beautifully in this recipe. That said, be sure to roast (or microwave) the onions until they caramelize. I did the same with the jalapenos, which intensifies their flavor. What a difference one little step makes, my friends!  As for the corn, though I was able to use fresh, sweet Texas corn, I believe you can successfully pair this with canned corn.
Ingredients
1½ cups diced onions
2 tablespoons butter
3 tablespoons olive oil, divided
Sea salt and freshly ground black pepper
2 large jalapenos, diced small
5 eggs
1½ cups half and half or whole milk
2 tablespoons flour or arrowroot
1 tablespoon Louisiana hot sauce or Sriracha (optional, but worth it)
6 ears of sweet corn, cut off the cob (if you place one small bowl into a large bowl, corn won't fly all over the counter and floor when you cut it off the cob)
2 cups grated cheese (preferably Parmesan, but you can use mozzarella, provolone, sharp cheddar, or a blend of your favorites)
6–8 oz. cream cheese, cut into 10 cubes
¼ cup chopped green onions, for garnish
Instructions
Preheat oven to 375°F. Butter a 9×12-inch casserole.
Stir together diced onions, the butter, and 2 tablespoons of the olive oil. Season with ½ teaspoon sea salt and freshly ground pepper. Microwave on high until the onions are slightly brown, about 7 minutes, then set onion mixture aside.
Stir together diced jalapenos with the remaining tablespoon of olive oil. Season with sea salt and freshly ground pepper and microwave for just 2 minutes, making sure the jalapenos retain their green color.
In a medium bowl, beat eggs with half and half or milk. Stir in flour or arrowroot. Add the hot sauce, if using, and season with 1 teaspoon each salt and freshly ground pepper.
Add corn, caramelized onions, and jalapenos (along with all of the oil and butter juices they were cooked in) and mix well.
Pour mixture into buttered casserole. Sprinkle with grated cheese, then dot with the 10 cubes of cream cheese.
Bake for 35 minutes. The center of your casserole should be jiggly. Turn off heat and leave casserole in the oven with the door closed for 10 minutes. During this time the middle will solidify.
Garnish with green onions if desired. Let casserole rest if you wish, or serve immediately in all of its creamy glory.
Enjoy, y'all!
Main image from iStock/bhofack2. Post image from Phyllis Quinn.