Last I checked, more than three million Americans have celiac disease, and about eighteen million (6 percent of the population) experience gluten sensitivity or gluten intolerance (also known as non-celiac gluten sensitivity, or NCGS).
Gluten is an elastic protein responsible for the elastic texture of dough. When it comes to the rapid rise of gluten intolerance, part of the problem may lie in the type of wheat we typically use for baked goods. And part of the problem may lie with the quality of the wheat we use (in particular, whether it is conventionally or organically grown).
However, I suggest two culprits that share a larger part of the blame: the way we harvest our wheat, and the way we have produced bread and baked goods for the last century and counting. This method of baking has not and will not serve our health, gluten free or not. Thankfully, the remedy is really quite simple.
Many researchers have traced our gluten problems to the hybridization of wheat that began in the early 1950s. As I touch on above, I would like to consider two other events of the late 1800s and early 1900s that are even more responsible. These were seen as "advancements" at the time, but they have since had a negative effect on our health—and our digestion. I am talking about the mechanization of agriculture and the rise of modern baking (pun intended).
We will talk about this more thoroughly, travelling back in time to the "amber waves of grain" of the American heartland at the turn of the last century. But first I want to examine about what wheat is at its core—a seed—and why that is a problem.
Wheat Berries (and All Grains) Are Seeds
Wheat berries are that part of the plant that we harvest and grind into flour. No matter the variety, they are seeds, just like other grains. Seeds want to turn into plants, and they will do so given the correct conditions: light and water. Seeds also want to reproduce, which means they do not want to be digested by you or any other animal that might eat them.
Now, back to that wheat field…
The Mechanization of Agriculture: Do Harvesting Methods Wreak Havoc?
Here we are in the United States of the late 1800s and early 1900s. It is harves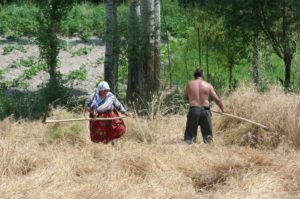 ting time. No tractors or combines to be seen. Just men, women, and children with scythes and sickles, cutting down wheat by hand. This is hard work. It takes time—days at least. Depending upon the size of the crop and the number of people harvesting, it can even take weeks. Then, once harvested, it might be several days or more before the wheat is taken to the mill to grind into flour. The harvested wheat may be stored outdoors, exposed to sunlight and water (in the form of rain or dew). Left on the ground, the grain soaks in moisture. Under these conditions, wheat berries do what seeds are meant to do: sprout into plants. By the time the wheat arrives at the mill, the wheat berries have likely sprouted. It is therefore sprouted flour.
What does that mean for the digestibility of the flour? A lot! Flour from sprouted seeds (sprouted flour) is much easier to digest than unsprouted flour. In the early days of baking, all flour was sprouted because it was all made from plants! It was not made from ground-up seeds as it is today—and has been for the last hundred years or so.
The human digestive system can break down plants far more easily than it can digest seeds. (Well, almost. Seeds have natural "anti-nutrients" that protect them from being digested and prevent us from accessing their nutrients. However, you can easily unlock those nutrients using traditional cooking methods. My "Preparing Whole Grains and Legumes" chart can show you how.)
Our grandmothers and great-grandmothers baked with sprouted flour, which is easier to digest than modern wheat flours. The first input—the ingredients—were easier on the digestive system. In fact, eating bread and baked goods from sprouted flour may not have posed any digestive difficulty at all, by virtue of the fact that it was made from seeds that had been allowed to sprout (in other words, plants). And, of course, by virtue of the way our grammies baked.
The Rise of Modern Baking and the Demise of Sourdough
Over the years, using sprouted flour in baking may have been all it took to help ease digestion, at least in part because it can be entirely gluten free.  (According to the Gluten Intolerance Group, a national celiac disease support organization, gluten is not present once the wheat sprouts into a plant.)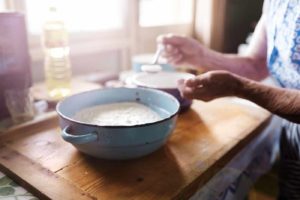 But there was something else at play. Our ancestors were almost guaranteed ease of digestion simply because of the way they baked! Traditional methods of preparing sourdough bread and other baked goods predigests the proteins in the flour. By breaking down that gluten and preserving the bread longer than yeast-risen bread, the fermentation process does all of the work for us.
Unfortunately, by the mid-1800s sourdough began to go by the wayside. The modern age of baking began when we removed the precious germ and bran, and then added chemicals to the process. Once we invented baking soda and baking powder, "quick breads" became the norm. Quick breads are just that: quick. The dough does not require a long fermentation or the need to make and maintain a starter as sourdough breads do. Bakers and homemakers could now achieve in minutes what previously took days. But the gain in time resulted in the loss of nutritional value—and the taxing of our digestive systems!
Almost All of the Baked Goods in the Store Are Not digestible!
What does all of this mean? It means that we can no longer digest the vast majority of breads, rolls, buns, crackers, cookies, cakes, bagels, and all other baked goods from the grocery store—organic or not. Period. And it's been this way for a hundred years, both in home kitchens and since the advent of the grocery store. This has a tremendous effect on our GI system and digestive health. Rather than "the staff of life," bread is now the "kiss of death." Bite by bite, we slowly injure our small intestines and become more malnourished. Our inability to digest baked goods causes a whole host of symptoms that extend beyond the digestive system: depression, anxiety, iron-deficiency anemia, fatigue, arthritis, osteoporosis, liver disorders, joint pain, neuropathy (tingling, numbness, or pain in the hands and feet), infertility, migraines. The list goes on.
What Is the Remedy?
Still want to eat bread and baked goods? Or do you want to eat healthful bread and serve it to your family? Look at the following options available to you, starting with the good and ending with the best.
Purchase only baked goods made from sprouted flour. Be sure the label does not list "vital wheat gluten," which you do not want!
Purchase sourdough and baked goods from a real baker or bakery. Ask the baker if the sourdough is traditionally made: no added yeast, no added vital wheat gluten, and a long fermentation time (over 12 hours or up to 36 hours).
Purchase sprouted flour for your own baking.
Better yet, make your own sourdough. The easiest recipe I have found is from The Nourishing Traditions Cookbook for Children by Sally Fallon Morell.
Best? Grind your own flour and make your own sourdough. Learn more about the benefits of grinding your own flour and buy the best flour mill available!
Wishing you well on your journey to finding the best nutrient dense bread for you!
Further Reading
If you're interested in learning more about the problems with white flour, you will find a deep source of research and information at the SRP Historical Archives.
More on the mechanization of agriculture:
More on baking soda and baking powder:
Photos from iStock/BoStarch (main image), ollirg (harvesting wheat), Halfpoint (woman's hands) 
Related Topics
gluten sensitivity | whole food nutrition