I recently wrote a fun blog post titled "Baking Better Cookies" in which I offered some healthier cookie recipes for my readers. Many (if not all of them) called for vanilla as one of the ingredients, but since I'm not one of those weekly cookie bakers, I was stunned when I shopped for a bottle of pure vanilla extract for some of the recipes. Talk about expensive!
Of course, I launched an all-out search, checking my regular health food stores, grocery stores, and even online sellers for pure vanilla extract at reasonable prices. However, even the faux vanilla flavored products were ridiculously expensive for a small (4 oz.) bottle, and I needed a lot since the cookies I wrote about in my blog post were meant to be baked in larger quantities for gift giving. I finally purchased a brand that I thought would give my cookies that special vanilla flavor, but I was ultimately disappointed.
Although I used the best store-bought vanilla I could find, and the cookies were great, I was surprised that I couldn't really taste the vanilla. I remember that special intense vanilla flavor of the cookies that my mom, who was a great cook and baker, made for our family. Along my journey, I asked others where they got their vanilla, and one of the chapter leaders of the Weston A. Price Foundation suggested that I take a look at The Vanilla Company, "Home of the Vanilla Queen." So please read on and meet the owner and Vanilla Queen herself, Patricia Rain—and learn all about her quest for real vanilla.
This company was a truly a great find, and I promised myself that I would tell my readers about this very unique lady and her awesome vanilla! I spent two hours on the phone with Patricia, an entrepreneur par excellence, and every minute was given to listening to her unbelievable story and great adventures.
Now let's talk about vanilla—real vanilla—from this high-quality source. It piques every taste bud in your mouth with the deep, subtle flavor of what can only be described as a little bit of heaven. 
How Did It All Start?
"The Vanilla Company was launched in 2001 as a socially conscious educational site and retail/wholesale business focused on pure vanilla and the promotion of those who grow it worldwide." Patricia explains that most tropical farmers face the same struggles as farmers in developing countries. It's also true that "women produce up to 80% of the crops in developing countries but receive a very small portion of the money that comes from the sale of the crops." Patricia has a strong belief that these farmers must not only be paid fairly, but also that female farmers must have greater autonomy and more access to wages to support themselves and their families.
Please take the time to read her fascinating story and learn how and why The Vanilla Company graces our fair land. I'm personally thrilled to know about her, and I hope that you'll join me in supporting her small business.
Understanding Vanilla Product Labels
A good portion of my conversation with Patricia centered around label ingredients, which are so misleading you'd need an expert to tell you why so-called "pure vanilla" may, in fact, be about as "pure" as a muddy dog coming in from the rain. (Smile) My first thought was oh, yuck!
Let's talk about some of the misconceptions surrounding pure vanilla, a product we use by the tons in so many baked recipes. Real vanilla is the second most expensive spice, saffron being the priciest spice in the world! If you desire genuine vanilla for your family, stay clear of labels that say "Flavored," "Natural," or "Imitation." Real vanilla is never labeled with these words, and such products are fakes.
So now let's play a "Did you know?" game from one of Rain's blog posts:
Did you know: "There is a Standard of Identity for vanilla extract in the United States. To be labeled Pure Vanilla Extract, a gallon measure must contain 13.35% vanilla bean extractives (10 ounces of moisture-free solids), 35% alcohol, and the balance in distilled water."
Did you know: "What is not listed in the Standard of Identity is sugar, corn syrup, caramel color or any other additives pure vanilla may contain."
Did you know: "Some companies include one or more of these ingredients [above] on their labels, but most do not—even though their pure vanilla contains it. The same is true with alcohol. Grain alcohol is the most commonly used alcohol in vanilla, but sugarcane alcohol is also used. Sugar or corn syrup is often used to mask the harsh notes of alcohol or to make the extract smell and taste better if the quality of the beans used was not good."
Did you know: "Imitation vanilla is synthetic vanillin made in a laboratory. If the product is clear, it's 100% synthetic vanillin. If it is caramel color, it has been dyed with caramel color (which also contains sugar) or other dyes. If you purchase imitation vanilla in U.S. supermarkets, it is safe."
Did you know: "Far less than 1% of the so-called vanilla extracts or essences sold throughout Mexico, the Caribbean and the rest of the Americas are pure vanilla extract or flavor. They are made from synthetic vanillin, with some containing 2% alcohol used as a preservative. They usually contain sugar and other ingredients, some of which may be considered carcinogenic in the U.S. There are no label laws in many countries in the Americas, and those that have them don't enforce them."
Did you know: "Vanilla flavor is made with required amounts of vanilla bean extractives, but without alcohol. Propylene glycol is the most common carrier used for producing the flavor…The Standard of Identity states that this product cannot be labeled extract due to the lack of alcohol. Vanilla flavor is a good choice for anyone who is avoiding alcohol. Unfortunately, however, some people are allergic to propylene glycol. In that case, a reasonable substitute for vanilla flavor is pure ground vanilla bean powder."
Did you know: "If you have issues with gluten or sugars, check with the company whose vanilla you've purchased. Rain's Choice vanilla is made with sugar cane alcohol and contains no additional sugars or additives. As a result, our vanilla extract is gluten-free, sugar-free and GMO-free."
Did you know: In another blog post, "Why Does Vanilla Extract Smell Like Alcohol," Patricia explains why pure vanilla has a strong alcohol smell. But don't be alarmed! There are three simple reasons for this, and one easy fix:
#1. The FDA requires it: "FDA Standard of Identity for pure vanilla extracts requires that there must be a minimum of 35% alcohol in pure vanilla extract. The alcohol may be made with grain alcohol or sugarcane alcohol. In the case of our vanilla extracts, we use sugarcane alcohol because it is both gluten- and GMO-free."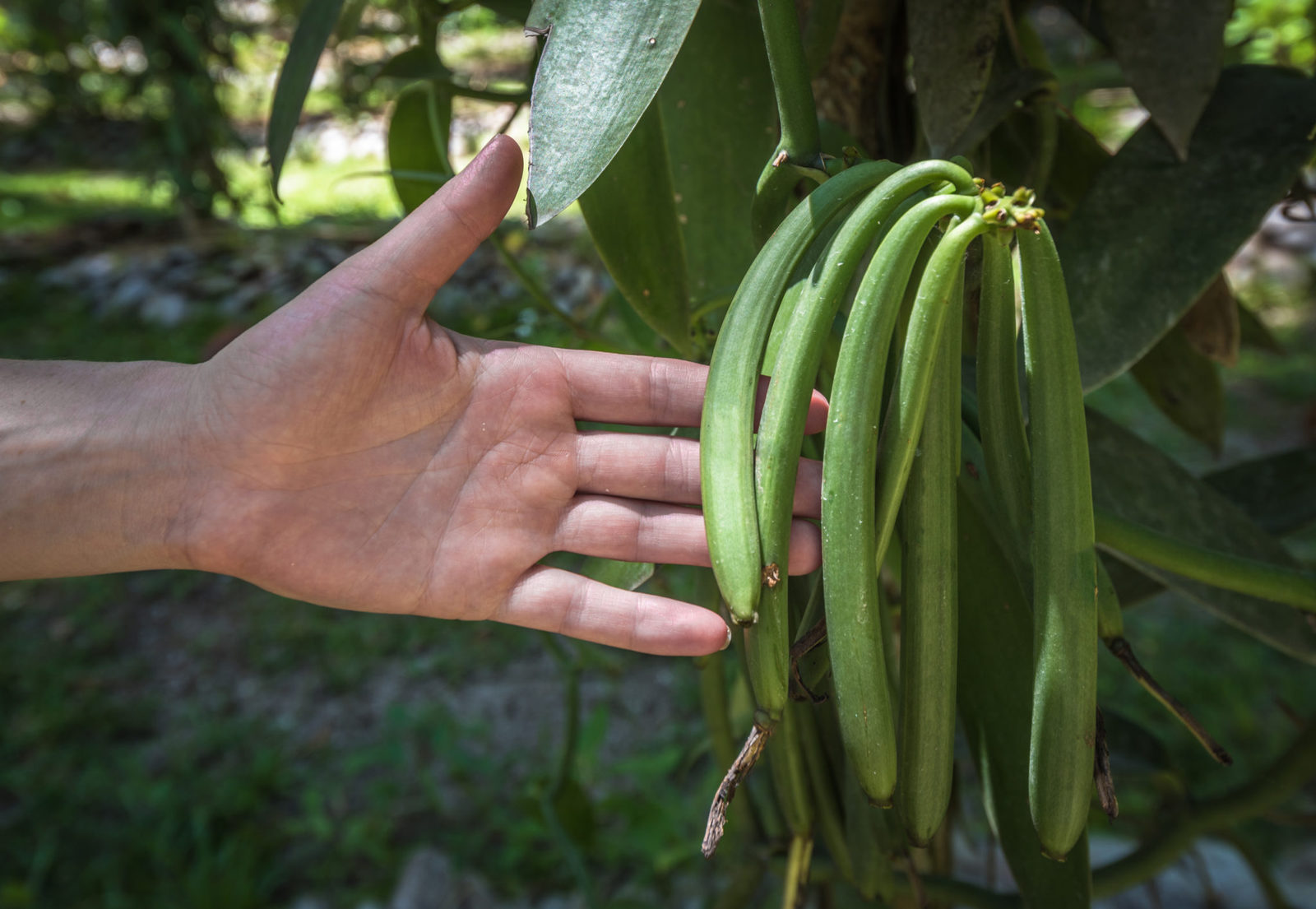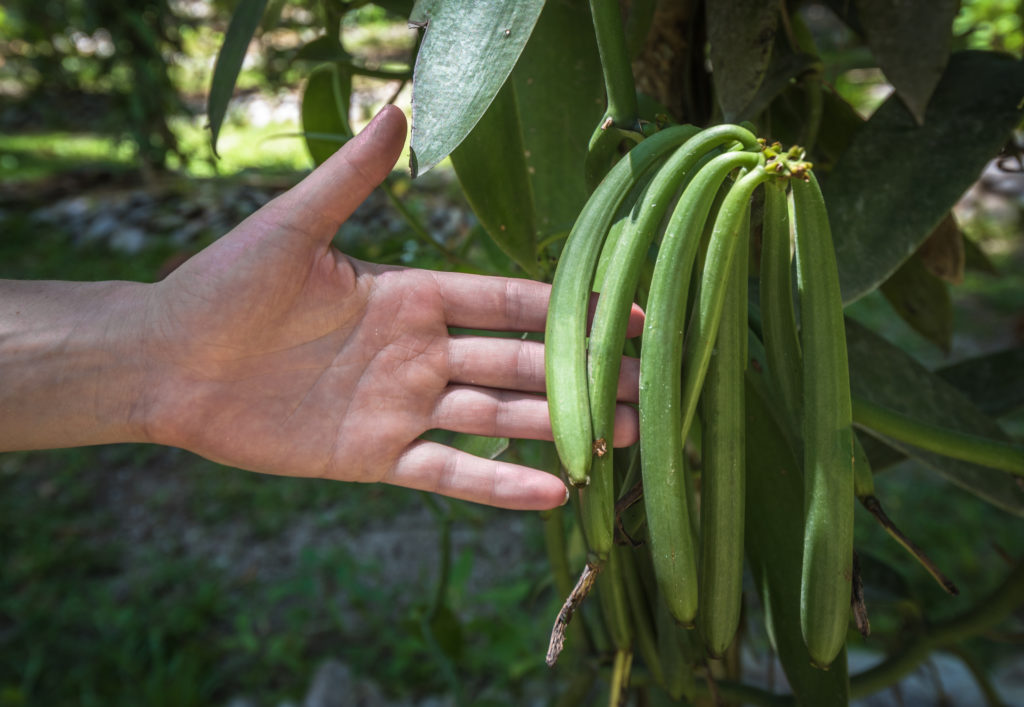 #2. Sugar-free doesn't help: "Most extract companies include sugar or corn syrup and caramel color in their blends. All three of these are sugars; the caramel color also darkens the color of the extract. While these should be mentioned on the labels, they usually aren't…Sweeteners, especially sugar and corn syrup, help to soften the smell of alcohol and also assist in the aging process."
#3. Less time to age because of the high cost of vanilla beans: "Extracts are currently made in small volume and shipped before they've had time to age. This means the extracts have had no time to start the aging process and become mellower unless they contain sugar or corn syrup!"
If the alcohol odor is too much for you, Patricia suggests the following: "For one pint of extract, add up to a tablespoon of cane sugar; for a quart, add 2 tablespoons. This will soften the harsh smell of alcohol and initiate the aging process. This comes out to about 3% sugar in the extract…Within a week or two your extract will smell far mellower."
Personal comment: I've been a traditional cook for the better part of my life, and I started using whole and organic products in my early 20s, but my ears were burning after I learned about all of the facts listed above. How about you? Wanna start using real vanilla? And how about some neat recipes? If yes, keep reading! (Smile)
Some Great Nutrition Facts
As I read so many great things about vanilla, I discovered that it can also be good for mental calmness and relaxation. Yes, vanilla contains magnesium, calcium, potassium, and manganese, and all four of these nutrients can help you "Be Happy, No Matter What!" Not to mention, foods containing these nutrients are considered aphrodisiacs. So maybe it's time to throw out the chocolate, which can cause your adrenals to become over-stimulated and lead to a ton of havoc. Instead, try yourself some of the vanilla-packed recipes listed below (and used with permission by Patricia Rain herself).
And here is yet another interesting benefit of vanilla from Elma Skin Care: "Vanilla is a scented tonic. This herb is believed to invigorate the brain and augment the vigor of the muscles. An infusion prepared with vanilla is effective in treating rheumatism, low varieties of fever as well as hysteria." In addition, "Several scientific studies have demonstrated that vanilla helps in enhancing the intensity of catecholamine's any of a group of chemically related neurotransmitters"
A Few Favorite Recipes to Awe the Vanilla Lover
The following recipes have been adapted with permission by Patricia Rain, though I've replaced some of the ingredients with more nutrient dense options. In addition to the following, here are many more wonderful vanilla recipes—a treasure trove of goodness!
Savory Cheese Cookies
Ingredients
1 cup organic white whole wheat flour
½ cup (1 stick) organic butter, room temperature
4 oz. gorgonzola or blue cheese, crumbled
Ground black pepper
¼–⅓ teaspoon Rain's Choice pure vanilla extract
3–4 tablespoons (approximately) fig or blackberry (preserves or spread)
Instructions
Preheat oven to 350°F. Line a baking sheet with parchment paper.
Place flour, butter, cheese and a few grinds of black pepper in the bowl of a food processor. Process until the dough just comes together and starts to form a ball.
Scrape dough onto a lightly floured surface and knead a few times to pull it together. Using a floured rolling pin, roll dough out to approximately ⅛-inch thick. Cut rounds out with a floured 1-inch cutter and transfer to the parchment-lined baking sheet.
Blend vanilla extract into the preserves or spread, or add it to the pastry dough. (Either way, it will bring up the sweetness in the cheese without overshadowing the cheesy flavor of the cookie.)
Use you the pad of your middle finger or your knuckle to make an indention in the top of each dough round. Spoon about ¼ teaspoon of preserves into each indention, using your finger if necessary, to push the preserves into the indentations.
Bake the cookies 10–14 minutes, until the pastry is light-to-medium golden brown.
Let cool on the baking sheet for at least 10 minutes, then remove to a wire rack to cool.
Makes about 3 dozen
Strawberry Smoothie
Ingredients
1 cup raw milk (cow or goat)
½ cup plain, organic full-fat yogurt
1 teaspoon Rain's Choice pure vanilla extract
1 small-to-medium organic banana
2–3 tablespoons raw honey (more or less to taste)
2 cups frozen whole organic strawberries (no sugar added)
Instructions
Combine first 5 ingredients in a blender. Gradually add strawberries and process until smooth and thick.
Maple Vanilla Custard
Makes 6 half-cup custards.
Maple Vanilla Custard
Makes 6 half-cup custards.
Ingredients
½ vanilla bean, Tahitian if possible (or substitute with 1 teaspoon Rain's Choice pure vanilla extract or ⅓ teaspoon Rain's Choice ground vanilla bean powder or vanilla bean paste)
2 cups light organic cream
½ cup organic maple syrup
2 pasture-raised eggs
4 egg yolks
Instructions
Place vanilla bean and cream in a saucepan set over medium heat until cream begins to bubble. Turn off heat and allow to sit for 30 minutes. Bring heat up to warm. Stir the syrup into the egg yolks. Mix in a little of the warm cream, then mix in the rest of the cream, stirring constantly.
Strain into a pitcher and pour into custard cups or pots de creme. Bake in a hot water bath in a preheated 325°F oven, lightly covered with foil (just lay a sheet of foil on top).
Bake for about 40 minutes, or until custards are set in a ring about ½-inch wide around the outside edge. They should still be soft in the center.
Serve warm or chilled.
Afterthoughts from the Traditional Cook
"Patricia Rain is an author, educator, culinary historian, and owner of The Vanilla Company, a socially conscious, product-driven information and education site dedicated to the promotion of pure, natural vanilla, and the support of vanilla farmers worldwide…[she also] does culinary presentations for food professionals, cooking schools, trade shows, food fairs, and private groups, and is a regular radio and TV guest."
Be sure to order Patricia's book, Vanilla: The Cultural History of the World's Favorite Flavor and Fragrance.
Disclaimer from Maria Atwood, CNHP: I am a Certified Natural Health Professional, CNHP, not a medical doctor. I do not diagnose, prescribe for, treat, or claim to prevent, mitigate, or cure any human diseases. Please see your medical doctor or health practitioner prior to following any recommendations I make in my blog posts or on my website.

Images from iStock/pierivb (manufacturing vanilla), javarman3 (vanilla plant), GANCINO (strawberry shake). 
Related Topics
healthy recipes | holistic nutrition | whole food nutrition